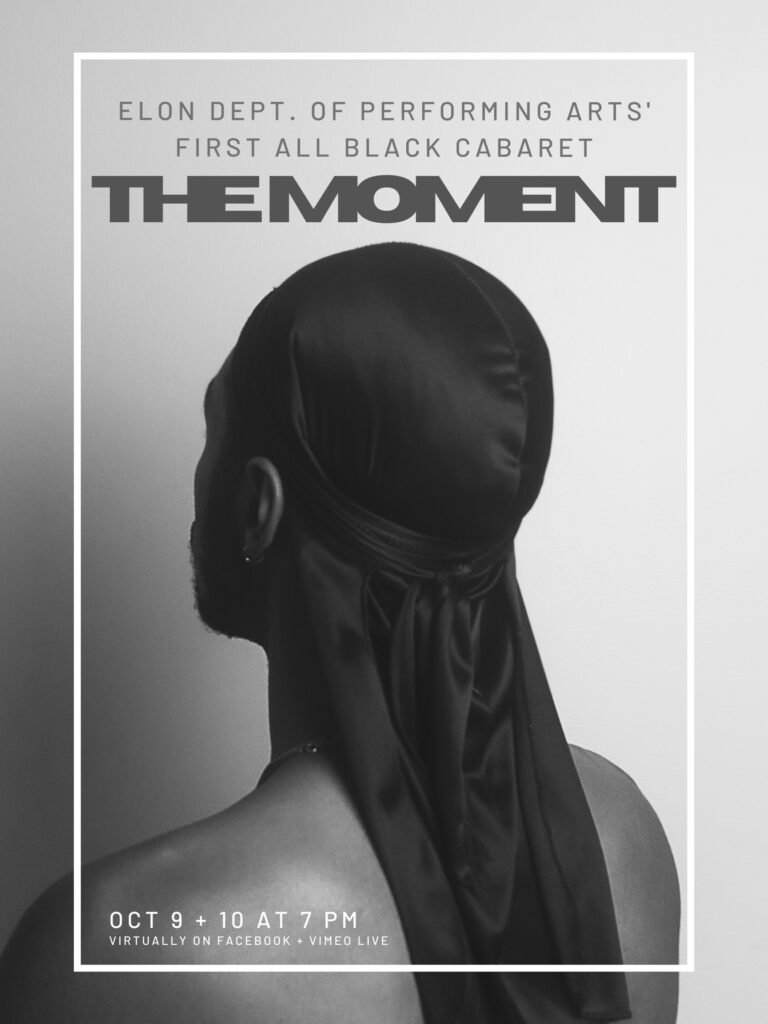 Thank you for joining us for this production. Our licensing prevents rebroadcast, but we hope to make selections available on this website in the coming weeks.
Director's Note
Good evening and welcome to The Moment, Elon Department of Performing Arts First All-Black Cabaret. In the last few months, we have been living through what many have been calling "the dual pandemics". COVID-19 has turned our world upside down as every industry and every person has had to make drastic changes to their way of life. The second pandemic is actually one that has plagued this country since its inception. Systemic and structural racism and it's even more despicable father, white supremacy. Thousands across the country are finally waking up to what many of us have known for a while, that the promise that "all men are created equal" was a lie that is still perpetuated today. While many see the arts as a safe haven from the flaws of the world, this is misguided. Like all systems, the performing arts are not immune to white supremacy. In fact, as the de facto culture makers of the world, the performing arts is deeply ensnared within the claws of racism. We have to begin doing our part in transforming the field of performing arts. As artists, every time you go into a studio or learn a monologue, we have to question, how is this work transforming, deconstructing, and rebuilding what the arts looks like? The work we do cannot be the continuation of the deeply harmful practices in the arts, our work must be transformational. Tonight, we have begun our contribution to this transformation. As we work through these dual pandemics, a lot of emotions can flare. Pain, loss, despair, grief, but also in these times of crisis, great beauty and truth can emerge. Tonight, we hope that you'll bear witness to these truths. Our Black truths, our Black beauty, Black joy, and Black celebration. This evening would not be possible without the contributions of dozens of folks, who you will see in the credits at the end of the evening. Yet there are a few people who I would like to extend the deepest gratitude to. The first being every single Black person in the diaspora. We are dope as hell y'all and despite everything that's being thrown our way, we still get outta bed and DO IT. Secondly, I would like to thank the Elon Department of Performing Arts and their support of this production, namely department chair Prof. Lauren Kearns and Director of Music Theatre, Prof. Julio Agustin Matos. Additionally, I would like to thank our faculty advisor Dan Gibson as well as Prof. J McMerty and the iMedia majors who literally brought this show to life. There is a quote from James Baldwin that speaks to our celebration this evening. He writes, "There is never a time in the future in which we will work out our salvation. The challenge is in the moment, the time is always now." Thank you again for joining us. Please enjoy The Moment.
Acknowledgments
Elon Department of Performing Arts, Prof. Julio Augstin Matos Jr., Prof. Lauren Kearns, Dr. Susanne Shawyer, Prof. David McGraw, Prof. Kim Shively, Prof. Bill Webb, Prof. Natalie Hart, Haidee Dollak, Tyson Hankins, Bryan Baker & School of COM, Dr. Thomas Arcaro, Sujaya Sunkara, Caitlin Strickland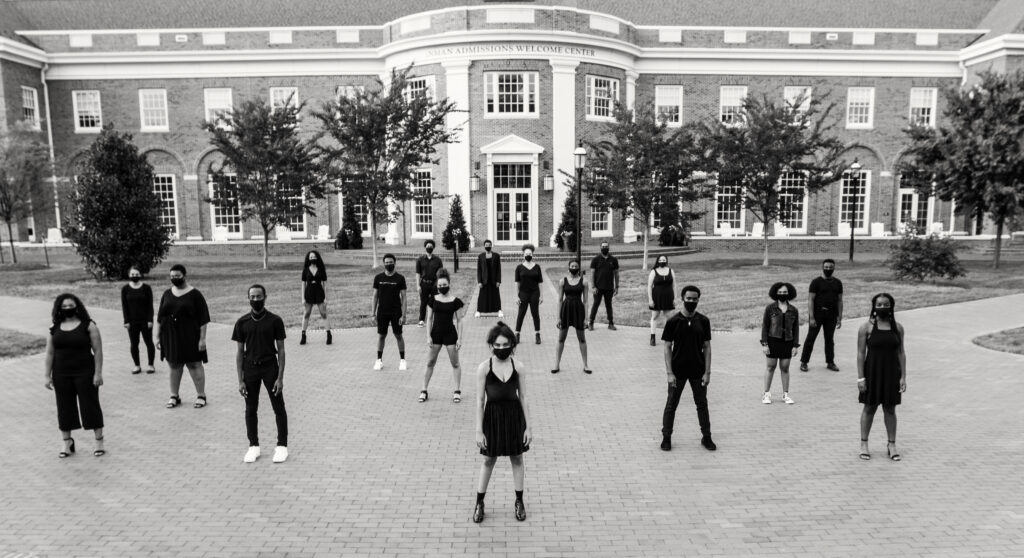 Cast
Jaelyn Alexander
Naiya Banks
Zeth Dixon
Haile Ferrier
Lauryn Harper
Anne-Sophie Hill
Hannah Hubbard
Kayla Jacobs
Kevin Lacey
Zion Middleton
Sayo Oni
Candace Rhodes
Lake Sims-Winfrey
Araya Sykes
Renell Taylor
Christine Wanda
Giselle Watts
Sidney Wilson
Cullen Zeno
Creative Team
| | |
| --- | --- |
| Artistic Director | Kamal Lado |
| Music Supervisor | Kevin Lacey |
| Assistant Director | Hannah Hubbard |
| Faculty Advisor | Prof. Dan Gibson |
| Dramaturg | Lake Sims-Winfrey |
| Director of Outreach | Zion Middleton |
| Publicity Director | Jaelyn Alexander |
| Music Director | Christine Wanda |
| Director | Naiya Banks |
| Director | Sidney Wilson |
Crew
| | |
| --- | --- |
| Director of Production | Prof. Jason McMerty |
| Videographer and Editor | Jordan Young |
| Videographer and Editor | Jasmine Simmons |
| Videographer and Editor | Yasmeen Grandison |
| Videographer and Editor | Medeleine Horrell |
| Videographer and Editor | Dion Cummings |
| Videographer and Editor | Abigail Bekele |
| Videographer and Editor | Natalie Oldani |
| Videographer and Editor | JD Grant |
| Photographer and Editor | Willem Butler |
| Audio Engineer | Eddie Falshaw |
Set List
"On The Deck of a Spanish Sailing Ship" from Songs for a New World
Director: Kamal Lado
Music Director: Christine Wanda
Cullen Zeno, Kevin Lacey, Christine Wanda and Giselle Watts
_____________________
"Four Women" by Nina Simone
Director: Kamal Lado
Music Director: Kevin Lacey
Candace Rhodes, Jaelyn Alexander, Sidney Wilson, and Kayla Jacobs
_____________________
"No Child" by Nilaja Sun
Lake Sims-Winfrey
_____________________
"I've Never Been In Love Before" from Guys and Dolls
Director: Kamal Lado
Music Director: Kevin Lacey
Zion Middleton and Haile Ferrier
_____________________
Summer somewhere/Sonnet 18
Director: Kevin Lacey and Sidney Wilson
Naiya Banks and Zeth Dixon
_____________________
We Shall Overcome/Glory – In Memoriam Section
Director: Kamal Lado
Music Director: Jaelyn Alexander
Full Company
_____________________
Laura
Director and Choreography Remounting: Hannah Hubbard
Hannah Hubbard, Renell Taylor, Sidney Wilson, and Kayla Jacobs
_____________________
August Wilson Monologue Tribute
Director: Zion Middleton
Naiya Banks, Araya Sykes, Anne-Sophie Hill, Zeth Dixon, Renell Taylor, and Cullen Zeno
_____________________
Disney Princess Power Medley
Director: Lake Sims-Winfrey
Music Director: Christine Wanda
Anne-Sophie Hill, Lake Sims-Winfrey, Kayla Jacobs, Giselle Watts, Lauryn Harper, and Sidney Wilson
_____________________
"Masterpiece (Mona Lisa)"
Director: Kamal Lado
Music Director: Kevin Lacey
Candace Rhodes
_____________________
"Ain't No Mountain High Enough"
Director: Hannah Hubbard
Music Director: Kevin Lacey
Choreographer: Kamal Lado
Cast: Full Company featuring Elon Performing Arts Alum
_____________________
Bios
Dan Gibson
Dan Gibson is a New York City-based composer and music/vocal director. Currently Assistant Professor of Performing Arts and Music Director for Elon Music Theatre. Dan is thrilled to be home at Elon for a year, where his first full-length musical, I.D., premiered in 2010. Recently a composer in Columbia University's MFA Lyric Writing Lab. In the works: Behind the Front Door with Sam Rosenblatt, Return to Flight with Alex Higgin-Houser. Music/Vocal Director: Royal Caribbean Productions, Enlightened Theatrics, and The Flat Rock Playhouse where Dan has been an actor, vocal coach, music director, or youth educator for almost 20 productions. MFA NYU Graduate Musical Theatre Writing Program, BFA Elon Music Theatre, BMI Musical Theatre Workshop, AEA, BroadwayWorld-Portland Award Winner for Best Music Direction. Love and thanks to Bub!
J. McMerty
J. McMerty Director of Elon in Los Angeles, Assistant Professor Cinema & TV Arts.
Naiya Banks
This is Naiya's junior year in the BFA program and she is so happy to be making her mainstage debut this semester! She'd like to thank her amazing family, the wonderful production team, and every one of her friends that have pushed her to be the best.
Dion Cummings
Dion Cummings is an Elon native and a current Elon graduate student within the Interactive Media program. Passionate about digital storytelling and black representation in creative spaces, Dion aims to own his own film studio and direct his own movies in the future.
Yasmeen N. Grandison
Yasmeen N. Grandison is a candidate for a M.A. in Interactive Media at Elon University, as part of the class of 2021 . During her undergrad years at Elon, she was Cinema and Television major with a double minor in French and International Studies. Yasmeen loves writing scripts, reading, video editing, and watching movies. Upon graduating, Yasmeen aspires to work in the film production industry.
Lauryn Harper
My name is Lauryn Harper. I am a senior Cinema and Television Arts major with a minor in Theatre Arts. I've spent most of my career behind the camera making short films. The Moment is the first production show I have been apart of during my time at Elon where I can perform. I am and thankful for the opportunity to be apart of this cabaret. The Moment is a show by black bodies showcasing black excellence and its time to hear our voices.
Anne-Sophie Hill
Anne-Sophie is a first-year Musical Theatre major at Elon University this year. She has performed in various regional performances such as Chicago, Bring It On, Legally Blonde, and many others. She is beyond excited to start her journey at Elon and to be apart of the beautiful,inspiring work that is The Moment. She would like to dedicate this performance to her family and to the ones that pushed her past barriers to reach her goals.
Kevin Lacey
Kevin Lacey is a senior BFA Music Theatre major from Ashburn, VA. He couldn't be more thrilled to present a show filled with love, rooted in joy, and the definition of F.U.B.U. Previous credits include Damn Yankees (Van Buren), The Little Mermaid (Sebastian), Ghost (Carl), and the ensembles of American Idiot and Once on this Island. He would like to thank his family, the creative team, and this incredibly talented group of actors: none of this could have been possible without you, and for that he extends the deepest depth of gratitude. Instagram: @kevin_lacey22. Romans 8:18
Jasmine Simmons
Jasmine Simmons is a native of Winston-Salem,  North Carolina. She obtained her Bachelors's degree in Mass Communications in Journalism, with a focus in Mass Media production from North Carolina A&T. Currently, she is enrolled in the Interactive Media program and will graduate in spring 2021 at Elon University. Jasmine looks forward to learning new techniques in videography and production. Her aspirations in life is to become an academy award-winning producer. Participation in this film: Shot and edited.
Araya Sykes
Araya is a senior double majoring in Drama and Theatre Studies, and Cinema and Television Arts. Upon graduating Elon, she wants to go more into the field of directing. While at Elon, she has helped create several short films, both individually and as part of Cinelon, Elon's student film production organization. Within the performing arts department, some of her achievements include working as a props masters on the productions of Cats and You Can't Take it with You; Assistant Stage Managing the Spring Dance Concert 2019, and Assistant Directing Clown Bar. The Moment will be the first official production at Elon that she has had a performing role in. She is excited about this work and has enjoyed all the time spent with everyone involved in this project. It is truly a work for us and by us and she can't wait for the world to see it!
Renell Taylor
Renell Taylor (Performer) is delighted to be making an appearance in The Moment. Recent/Favorite credits include Lucky in Dames at Sea at the National WWII Museum, Specs in Newsies with Tulane Summer Lyric Theatre, and Ensemble in Catch Me if You Can at Tent Theatre. He is a sophomore at Elon University where he is double majoring with a minor to receive a BFA in Musical Theatre, a BA in Arts Administration, as well as a minor in business administration. Renell would like to give special thanks to his family and friends as well as all of the amazing educators he has had the pleasure to learn from.
Sidney Wilson
Sidney Wilson is a Senior Music Theatre major at Elon University. Most recently seen in Elon's production of Damn Yankees as Meg, she has also performed at the 2019 National Black Theatre Festival in Jelly's Last Jam as a Hunnie. She is ecstatic to be a part of The Moment and would like to thank her friends and family for their endless love and support!
Lake Sims-Winfrey
Lake Sims-Winfrey is a senior Drama & Theatre Studies double major w/ Music in the Liberal Arts! She has been a part of numerous productions in the Performing Arts, such as a student director for senior thesis, Triptych, and a performer in the Vagina Monologues, Once on this Island, & The Moment. She also served as the Wardrobe Supervisor for the production of Damn Yankees. This Fall, she worked as the Assistant Director for Beast Mode Champion and this Spring she will be serving as the Dramaturg for the upcoming spring musical, Fugitive Songs! As the Dramaturg for this production, Lake is so excited for everyone to see this powerful story on stage!
Zeth Dixon
Zeth Dixon is a first year BFA Musical Theatre student at Elon University Recent/Favorite performance credits include Songs for a New World, The Drowsy Chaperone, Newsies, Chicago, and Hello Dolly! He would like to thank his family and friends for their unlimited support and dedicates his performance to them.
Jaelyn Alexander
Jaelyn is a junior at Elon University from Mt. Laurel, NJ. She is pursuing a BFA in Music Theatre, BA in Arts Administration, and minor in Business Administration. Some of her recent credits include Heathers: The Musical, Nice Work if You Can Get It, Beast Mode Champion, and The Bubbly Black Girl Sheds Her Chameleon Skin.  She thanks her family, friends, and teachers for their endless love and support. Instagram: jaelyn_alexander
Eddie Falshaw
Eddie Falshaw is so incredibly excited to be helping Kevin Lacey with the mixing/audio arranging of The Moment. He would like to thank Kevin and Kamal for this incredible opportunity and for trusting him with this work. Cultivate and cherish Black art and support Black business. Love to Mom, Dad, and Maggie.
Haile Ferrier
Haile Ferrier is a Senior BFA Music Theatre Major and is so excited to be prioritizing her personal growth and preparation as a transitioning professional. She will be participating in The Growing Studio's Link Program/Intensive in January and looks forward to the doors the experience will open. She thanks her parents for their emotional (and financial) support as well as Professor Matos for all he has already brought to the music theatre program.
Kayla Jacobs
Durham, NC native, Kayla Jacobs is currently a Junior at Elon University, and is working toward a B.F.A in Music Theatre and B.A. in Arts Administration. Her most recent credits include "Woman 2," in Songs for a New World, and "Somebody," in Branden Jacobs Jenkins' Everybody. Kayla feels blessed to have been a part of the Bubbly Black Girl cast, and is inspired by the adaptability of the performing arts during these times! She would like to give a special shoutout to the show's creative team, and her amazing family for all of their guidance and support! All glory be to God, we did it y'all!
Kamal Lado
Kamal Lado (they/them) is from St. Louis, MO, and a senior at Elon University. They were last seen on the university stage in We Will Rock You. Regionally, Kamal has performed at The Muny, Music Theatre Wichita, and is a member of Actors' Equity Association. Through performing in venues around the country, Kamal began to clearly see the disparities and injustices in a community they had long found solace in. Over the past 4 years, Kamal has developed a passion for advocacy work and activism specifically for Black and queer folx in the theatre. BLACK LIVES MATTER. kamallado.com
Hannah Hubbard
Hannah is a current Junior in the Musical Theatre department as well as a Arts Administration major. She enjoys working on Elon's sketch comedy show "Elon Tonight", helping with various on-campus cabarets, and of course talking to her puppy and parents over FaceTime.
Zion Middleton
Zion Middleton is a Junior Music Theatre Major from Mcdonough, Ga. Outside of his passion and love for performing, he enjoys working at the Boys and Gir's Club, advocating for racial justice, and mentoring and educating the young black artist of the future. Previous Elon credits include: Fortinbras (Hamlet) and John Merrick U/S (The Elephant Man). Other credits include: Aldolpho (The Drowsy Chaperone), Agwe (Once on this Island) and Othello (Othello).
Candace Rhodes
Candace Rhodes is a first-year Music Theatre student at Elon University. She has been in many productions such as Hairspray, Once on this Island, Working The Musical, Student Body, and Grand Hotel. Candace loves performing for her community and is blessed to be a part of The Moment. She would like to thank her family and friends for endless love and support.
Christine Wanda
Christine Wanda is a Senior Music Theatre major from Arlington, VA. This is her final production at Elon, and undoubtedly, her proudest. Recent credits include: Ti Moune in Once On this Island, John Merrick in The Elephant Man, and the ensemble of American Idiot. She'd like to thank the entire Elon Performing Arts program for shaping her into the artist she is today. Thank you for a beautiful four years. Website: thechristinewanda.com
Sayo Oni
Sayo Oni is a sophomore at Elon University in the Musical Theatre BFA program. Some of his most recent productions are Beast Mode Champion, We Will Rock You, and Songs for a New World. Sayo would like to thank his mom, dad, sisters, niece, extended family, and friends for their unlimited support.
Cullen Zeno
Cullen is a proud memeber of MT '22 and he is so glad that Collage is still happening! The show must go on! Special thanks to Dan Callaway! Love you!
Giselle Watts
Giselle is a sophomore Music Theatre major here at Elon. She is more than happy to be here and to be able to grow alongside such amazing people! Giselle is thankful for her family and friends and their constant support. While singing you can find either painting, taking pictures of random clouds, obsessing over flowers, writing, or just enjoying life. Her daily mantra is "born to bloom": a message that constantly reminds her that she has a wonderful purpose and should always strive to be growing into a better version of herself.
Jordan Young
Jordan Young is a junior Cinema and Television Arts major at Elon University. She is currently a show producer for sketch comedy show Elon Tonight and was a member of the Juliet cohort of Elondocs. Some previous projects she worked on have been the short film The Right Black, produced by an iMedia alum, her documentary on representation of HBCUs in media, and Dancing in the Landscape. Jordan is passionate about inclusion and representation in media and is incredibly grateful to be a part of this project, The Moment.
JD Grant
JD is a sophomore student from Harding, NJ double majoring in Cinema & TV Arts and Economics. He loves telling stories and working with others, and so he was extremely honored and happy to edit "On the Deck of a Spanish Ship".