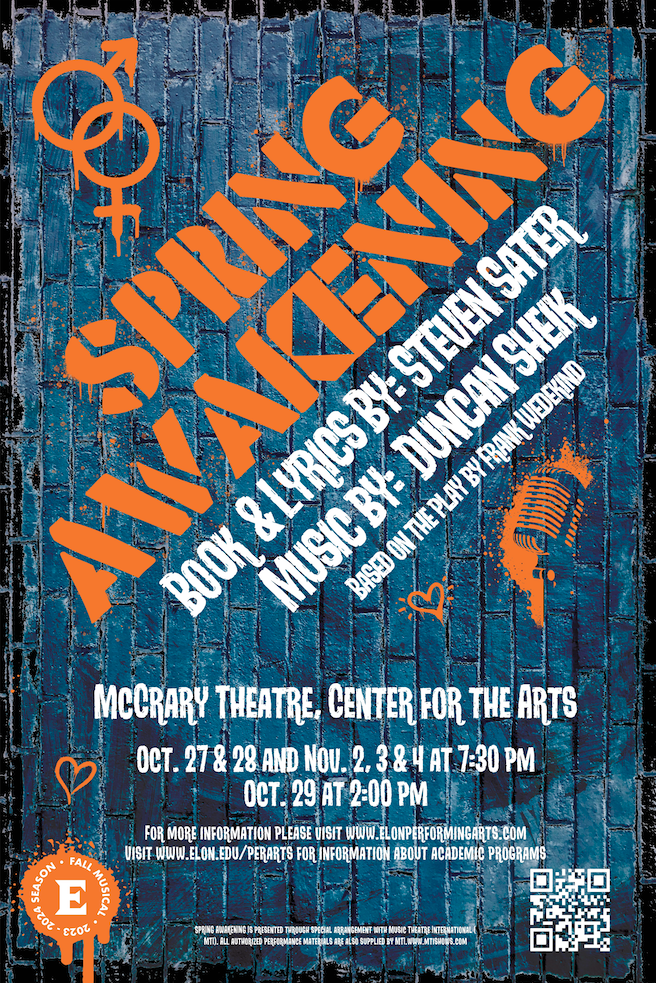 Orchestrations: Duncan Sheik
Vocal Arrangements: AnnMarie Milazzo
String Orchestrations: Simon Hale
Original Broadway Production Produced by IRA PITTELMAN, TOM HULCE, JEFFREY RICHARDS, JERRY FRANKEL, ATLANTIC THEATER COMPANY, Jeffrey Sine, Freddy DeMann, Max Cooper, Mort Swinsky/Cindy and Jay Gutterman/Joe McGinnis/Judith Ann Abrams, ZenDog Productions/CarJac Productions, Aron Bergson Productions/Jennifer Manocherian/Ted Snowdon, Harold Thau/Terry Schnuck/Cold Spring Productions, Amanda Dubois/Elizabeth Eynon Wetherell, Jennifer Maloney/Tamara Tunie/Joe Cilibrasi/StyleFour Productions.
The world premiere of Spring Awakening was produced by the Atlantic Theater Company by special arrangement with Tom Hulce & Ira Pittelman.
Spring Awakening is presented through special arrangement with Music Theatre International (MTI). All authorized performance materials are also supplied by MTI. www.mtishows.com
Any video and/or audio recording of this production is strictly prohibited.
Director Notes
I first encountered the play Spring Awakening in the early 2000s in a small off-off-Broadway theatre. I had gone to see a friend play Wendla's mother, and I remember being struck by the cautionary nature of the piece. The author of Spring Awakening, Frank Wiedekind, was responding to the polarizing political conservatism of 1890s Germany, which starkly contrasted the industrial and social progress that marked the turn of the century in Europe. At the center of this conflict in the story of Spring Awakening were the victims of this society, the children. Caught between their parents' conservative rigidity and their emerging humanity, the young people in the piece struggled and suffered to understand what was happening in their bodies, with their friends, and in the world around them. The themes of two very loud, specific, and opposing points of view clashing in the public square stood out to me as an exciting study of culture. Over the course of a few hours, the children in the play experienced abuse, engaged in self-harm, and one character committed suicide. The haunting images from the production stayed with me.
A few years after I first saw the play, the musical debuted on Broadway. The musical Spring Awakening was a hit and won 8 Tony Awards, including Best New Musical. The creative team, Duncan Sheik and Steven Sater, juxtaposed Wiedekind's original symbolist play interspersed with rock music, revealing the characters' inner landscape. The result was an ephemeral success. As I sat in the theatre watching the original Broadway cast, I was surrounded by rapt teenagers, seeing stories unfold that spoke deeply to their own experiences. At the time, I was in my early 30s, just separated enough to be aware that I was not the target audience.
When the opportunity came to direct this piece, I was cautious. My impressions of the production I saw over a decade ago were unchanged. However, as I thought about Wiedekind's original intention, and our fractured society, I pulled out the script and listened to the score with all the openness I could muster. My mother walked in while I was listening to the song "The B*tch of Living," and as we discussed the premise, she felt strongly that the musical needed to be performed at this specific time for this specific audience. She said, "If the adults do not wake up and realize that our children are watching us and waiting for us to model how to live well, we will be lost." And she is right; teaching my own children to think critically and be curious is a daunting but necessary task in this world where everything feels out of my control. Engaging with the world outside of my comfort zone seems incredibly intimidating and it would be so much easier to retreat and recreate my children in my own image.
This argument compelled me to prepare this production of Spring Awakening for our Elon community. I hope you enjoy the journey as much as we have enjoyed creating it for you. The material is sometimes weighty, but it is also true to the human experience. It allows us to look at our humanity, to experience the joys and sufferings of these characters as they come of age in a world not made for them. I hope you find yourself like Melchior, hopeful for a world that we can create through reason, creativity, and curiosity.
Special Thanks
President Connie Book, Provost Rebecca Kohn, Dean Gabie Smith, Fred Rubeck, Natalie Hart, Kimberly Rippy, Brian Kremer, Becca and Sydney Thorn, Kayla Higbee, David McGraw, Susanne Shawyer, Kaye Kennedy, Ryan Shively
Cast
Wendla
Caroline Borio
Melchior
Campy Rodriguez
Moritz
Andrew France
Martha
Sara LiBrandi
Thea
Kyra Britt
Anna
Anne-Sophie Hill
Ilse
Hashini Amarasinghe
Hanschen/Rupert
Tristan Altobelli
Ernst/Reinold
Nate Krohmer
Georg/Dieter
Jacob Atkins
Otto/Ulbrecht
Zeth Dixon
Adult Woman
Helena Padial
Adult Man
Tommy Pegan
Ensemble
Derick Donato
Mary Kate McDonald
Charlie Pelletier
Mallorie Sievert
u/s Wendla, Thea & Anna
Mary Kate McDonald
u/s Melchior & Adult Man
Charlie Castro
u/s Moritz, Ernst & Georg
Charlie Pelletier
u/s Martha & Ilse
Charlee Rubino
u/s Hanschen & Otto
Derick Donato
Swing
Jaid Green
Creative Team
Director
Kim Shively
Choreographer
Jane Lanier
Associate Choreographer
Jaid Green
Music Director
Chris Rayis
Intimacy & Fight Choreographer
Laura Rikard
Scenic Designer
Charles Johnson
Costume Designer
Heidi Jo Schiemer
Asst. Costume Designer
Brianna Boucher
Sound Designer/Audio Engineer
Sarah Adams
Audio 2
Sofie Crabbe
Lighting Designer
Greg Thorn
Asst. Lighting Designers
Ilana Meissner
Casey Spielman
Stage Manager
Haley Robles
Asst. Stage Managers
Maria Angelos
Talia Scheckman
Production Team
Technical Director
Luis Silva
Asst. Technical Director
Margo Buchanan
Costume Shop Manager
Heidi Jo Schiemer
Props Coordinator
Jeff A.R. Jones
Props Artisan
Kayla Jordan
Props Crew
Lauren Trethaway
Sound Advisor
Mike Smith
Light Board Op
Avery Hill
Followspot Operators
Kyle Brady
Arlan Visser
Lighting Crew
Illana Meissner
Casey Spielman
Fly Op
Eric Pettit
Wardrobe Supervisor
Josie Milner
Wardrobe Crew
Cassidy Benullo
Lucy Burk
Brooke Chamberlin
Deck Lead
Jonathan Jensen
Deck Crew
Emily Aukamp
Madeleine Milner
Front-of-House Supervisor
David J. McGraw
House Manager
Lillian Chen
Emily Moxon
Poster Design
Sydney Dye
Musical Numbers
Act 1
Mama Who Bore Me ….. Wendla
Mama Who Bore Me (Reprise) ….. Wendla, Anna, Martha, Thea, Ilse, Female Ensemble
All That's Known ….. Melchior
The Bitch of Living ….. Melchior, Moritz, Hanschen, Otto, Georg, Ernst, Male Ensemble
My Junk ….. Wendla, Anna, Martha, Thea, Ilse, Melchior, Moritz, Hanschen, Otto, Georg, Ernst, Ensemble
Touch Me ….. Wendla, Anna, Martha, Thea, Ilse, Melchior, Moritz, Hanschen, Otto, Georg, Ernst, Ensemble
The Word of Your Body ….. Wendla, Melchior
The Dark I Know Well ….. Martha, Ilse, Moritz, Otto, Georg, Ensemble
The Word of Your Body (Reprise 1) ….. Otto, Georg
And Then There Were None ….. Moritz, Hanschen, Otto, Georg, Ernst, Male Ensemble
The Mirror-Blue Night ….. Melchior, Moritz, Otto, Georg, Ernst, Male Ensemble
I Believe ….. Wendla, Anna, Martha, Thea, Ilse, Melchior, Hanschen, Otto, Georg, Ernst, Ensemble
Act 2
The Guilty Ones ….. Wendla, Anna, Martha, Thea, Ilse, Melchior, Moritz, Hanschen, Otto, Georg, Ernst, Ensemble
Don't Do Sadness/Blue Wind ….. Moritz, Ilse
Left Behind ….. Wendla, Anna, Martha, Thea, Ilse, Melchior, Hanschen, Otto, Georg, Ernst, Ensemble
Totally Fucked ….. Wendla, Anna, Martha, Thea, Ilse, Melchior, Hanschen, Otto, Georg, Ernst, Adult Man, Adult Woman, Ensemble
The Word of Your Body (Reprise 2) ….. Wendla, Anna, Martha, Thea, Ilse, Melchior, Moritz, Hanschen, Otto, Georg, Ernst, Ensemble
Whispering ….. Wendla
Those You've Known ….. Wendla, Melchior, Moritz
The Song of Purple Summer ….. Full Company
Orchestra
Conductor: Chris Rayis
Keyboard/Rehearsal Piano: Haidee Dollak
Violin/Concertmaster: Jorge Rodriguez
Viola: Jennifer Lane
Cello: Anne-Marie Tranchida
Bass: Stuart McLemore
Guitar: Allan Beck
Percussion: Erik Schmidt
Bios
Musical Theatre International
Kim Shively
Kim Shively is an Associate Professor in the Department of Performing Arts at Elon University where she teaches acting and directs. She is also Associate Faculty and Lead Teacher with Theatrical Intimacy Education and works as an intimacy educator, choreographer, and coordinator. A member of Actors' Equity Association and SAG-AFTRA, Kim has enjoyed a professional career in Theatre, Television, Commercials, Hosting, and Voice-over. Professional credits include work with Shakespeare Orange County, Laguna Playhouse, and the Asolo Rep; roles on Guiding Light, As the World Turns, The Young and the Restless, CSI:Miami; the short film You Got This; and appearances in over a dozen national commercials both on camera and as a voice-over artist.As a director, Shively has worked for various organizations developing and producing content. Recent directing credits include Sense and Sensibility by Jane Austen and adapted by Kate Hammill, The Wolves by Sarah DeLappe, the university premiere of Moment by Deirdre Kinahan, Trojan Barbie by Christine Evans, and a world premier workshop of The Inferior Sex, by Jacqueline Lawton, all at Elon University.Kim's research areas are building a culture of consent in creative communities and working with minors. As a specialist in working with minors, Kim has consulted and worked with secondary education programs all over the country, including Illinois Theatre Association, Columbia Grammar and Prep, Phillips Exeter Academy, Orange Country School for the Arts, and Monte Verde. As a guest scholar and Intimacy Choreographer, Kim has worked with dozens of universities and theatres including Common Thread Theatre Collective, Chapman University, UNCSA, University of Ohio (Miami), and UNCG. Shively has presented her research and led workshops at the Association for Theatre in Higher Education (ATHE), Women's Theatre Festival, and South Eastern Theatre Conference (SETC). Her pedagogical research has been published in The Players Journal (NIU), Methods (Pace), the book Objectives, Obstacles and Tactics in Practice: Perspectives on Activating the Actor published by Routledge, and the Journal of Dramatic Theory and Criticism. She is the co-author of Applied Meisner for the 21st Century Actor (Routledge), the first acting text to address boundaries and consent in the acting studio. Her chapter on working with minors in film will be included in a new volume on Intimacy Coordination released this winter.Shively earned a BFA from Chapman University and an MFA at the FSU/Asolo Conservatory.
Sarah Kay Adams
Sarah Kay is now a senior, here at Elon, as a double major in Arts Administration and Theatre Design/Technology with a concentration in sound and lighting. Her recent credits include A3 for Illinois at The Fisher Center at Bard, Sound Designer for Concord Floral here at Elon and Sound Designer/Audio Engineer at the Bigfork Summer Playhouse for Guys & Dolls, Mamma Mia, Freaky Friday, and The Full Monty. Sarah has worked in theaters and performing arts centers from CA to NY. But Sarah is particularly proud of her work as the sound designer and she hopes you enjoy the show!
Maria Mel Angelos
Maria is a sophomore Elon College Fellow majoring in Theatrical Design and Technology with a concentration in stage management. She is so excited to be an assistant stage manager for Spring Awakening! They thank their family, friends, and mentors for all of their support. Previous Elon credits include: Black History Month Dance Concert (Stage Manager), Fall Dance Concert 2022 (Stage Manager), Antigone (Stage Manager), and Clue! (Asst. Stage Manager).
Brianna Boucher
Brianna is so excited for their final season at Elon. As a senior TDT and Arts Administration major, she is so thankful for all the opportunities she has received over the last three years. She would like to thank everyone she has worked with at Elon for helping her become the artist she is today. Select Elon Credits: Concord Floral (Stage Manager), Head Over Heels (Wardrobe Supervisor), Movin' On (Asst. Costume Coordinator), Bridging: The Spring Dance Concert (Stage Manager and Asst. Scenic Designer).
Caroline Borio
Caroline is thrilled to be back on the McCrary stage in this production of Spring Awakening, and she could not have asked for a more incredible cast, crew, and creative team. Thank you Professor Shively for this opportunity, to Jane and Chris, to Julie, to her endlessly talented cast, to Trevor (who has run the lines so many times, he could probably jump up on stage), and to her family for their never ending support. Enjoy the show!
Kyra Britt
Kyra is a senior Music Theatre major, and is very excited to perform in Spring Awakening! She has previously performed in Elon's productions of Deep Water Ballad and Movin' On. Kyra is grateful for her supportive professors, peers, and family members. She looks forward to creating more lasting memories throughout her final year. Many thanks to the creative team, cast, and crew for all they have done.
Jaid Green
Jaid is a senior music theatre major from Wyckoff, NJ. She is thrilled to share the story of Spring Awakening as the associate choreographer and swing alongside this fantastic cast and creative team. Elon credits: Movin' On (Assistant Director and Rachel U/S), Head Over Heels (Dance Ensemble). She has participated in Dance Lab New York's Broadway Choreographer's Intensive in 2021, and interned for Thistle Dance in 2023. She is also a proud member of Vital Signs A Cappella and a Leadership Fellow.
Anne-Sophie Hill
Anne-Sophie is a senior Music Theatre and Arts Administration double major at Elon! She has performed in Elon's Movin' On and The Bubbly Black Girl Sheds Her Chameleon Skin along with other regional performances. She could not be happier to have been apart of this cast and team for her final year and wants to thank her family and friends for their constant support!
Sara LiBrandi
Sara (Martha) is a senior Music Theatre major. She cannot believe this is her last time performing on the McCrary stage. She is going to miss her Elon community so much. She is so grateful for this fabulous rehearsal process and excitedly looks forward to what the rest of senior year holds. She previously was Jack's Mother in Into The Woods and understudied Darla in Deep Water Ballad last spring. She would like to thank her family and friends for all their support! ig: sara_libi
MK McDonald
MK is stoked for her final performing arts season at Elon! Recent credits include Jersey Boys (Lorraine), Deep Water Ballad (Ensemble/Hill Child Shannon), 42nd Street (Peggy Sawyer), and The Addams Family (Grandma Addams). Special thanks to MK's teacher Dr. Polly, the creative teams, and her supportive family. Proud cat mom.
Haley Robles
Haley is a senior Theatrical Design/Technology and Psychology major. She is thrilled to be the Stage Manager for Spring Awakening this fall. She has gained professional experience working at The Lexington Theatre company as the assistant stage manager for 2 seasons. Previous Elon credits include The Inferior Sex, Into the Woods, and 42nd Street. Haley has enjoyed working with this wonderful group of people and is proud that this show will be her last at Elon. She wants to thank her friends, family, mentors, and everyone else who has helped her through this process. Enjoy the show!
Charlee Rubino
Charlee is a Junior Musical Theatre major and is so excited to be a part of another show at Elon. She would like to thank her family for making their way from California to come and support her. Tiktok: charlee.rubino
Charlie Pelletier
Charlie is a senior musical theatre major from Beacon Falls, CT and is beyond thrilled to be apart of Spring Awakening. Other Elon credits include: Head Over Heels (Pythio) and Movin' On (u/s Timothy). They also were in Renegade's most recent musical She Loves Me (Sipos). Regional credits include: Gypsy at Music Theatre of Connecticut (Ensemble). Special thanks to his mother for her never ending love and support. Enjoy the show and Long Live Elon! @charlesxpelletier
Mallorie Sievert
Mallorie is a senior Music Theatre major with a math minor in the Honors Fellows program. She was a 2020 National YoungArts Finalist and 2020 US Presidential Scholar in the Arts, and she could most recently be seen as Carole King in Beautiful: The Carole King Musical, the Dragon in Shrek the Musical, and Marian in The Bridges of Madison County. She's so excited for everything her senior year has to bring, and she hopes you enjoy the show!
Musical Theatre International
Music Theatre International (MTI) is one of the world's leading theatrical licensing agencies, granting theatres from around the world the rights to perform the greatest selection of musicals from Broadway and beyond. Founded in 1952 by composer Frank Loesser and orchestrator Don Walker, MTI is a driving force in advancing musical theatre as a vibrant and engaging art form.MTI works directly with the composers, lyricists and book writers of these musicals to provide official scripts, musical materials and dynamic theatrical resources to over 70,000 professional, community and school theatres in the US and in over 60 countries worldwide.MTI is particularly dedicated to educational theatre, and has created special collections to meet the needs of various types of performers and audiences. MTI's Broadway Junior™ shows are 30- and 60-minute musicals for performance by elementary and middle school-aged performers, while MTI's School Editions are musicals annotated for performance by high school students.MTI maintains its global headquarters in New York City with additional offices in London (MTI Europe) and Melbourne (MTI Australasia).
Helena Padial
Helena is a sophomore Music Theatre Major and she is thrilled to be performing in her first main-stage production at Elon! Some of her favorite credits include Chicago (Roxie), Guys and Dolls (Adelaide), and Addams Family (Morticia). Helena would like to extend a huge thank you to all who have made this show possible. Break a leg to the cast of Spring Awakening!
Hashini Amarasinghe
Hashini is thrilled for you to see Spring Awakening! Recent credits include Deep Water Ballad (Hill Child) and Aida (Amneris). Many thanks to her incredibly supportive family, friends, and mentors. Enjoy the show!
Tommy Pegan
Tommy is excited to be out of the directors chair and onto the stage for the first time since high school. Favorite credits include: Beyond the Rainbow (Producer/Director), Company (Producer/Director), The Drowsy Chaperone (The Man In The Chair), Pippin (Pippin). At Elon, Tommy serves as the President/Artistic Director of Renegade Productions. BA Arts Administration c/o 2024. Instagram @tommypegan #buffalove
Nate Krohmer
Nate is happy you could come see today's show! A sophomore musical theatre major, he has had the opportunity to be a part of Chris Rayis's Deep Water Ballad production and reading this summer in NYC. As always, he thanks his family and friends for their support.
Talia Scheckman
Talia Scheckman is a Sophomore Theatrical Design and Technology major from Livingston, New Jersey. Talia's previous Elon credits include She Loves Me (Stage Manager), The Bridges of Madison County (Asst. Stage Manager), and Fall Dance Concert (Asst. Stage Manager). Talia has had the best time working on this production and would like to thank everyone involved, her family, and her friends for their love and support. She hopes you enjoy the show!
Margo Buchanan
Margo Buchanan (she/her) is a junior at Elon double majoring in political science and theatrical design and technology with a concentration in technical direction. She's very excited to be the assistant technical director for Spring Awakening! Most recently, she worked at the Santa Fe Opera as a stage crew apprentice for the 2023 season. Previous Elon credits include Clue (asst. props manager), Bridges of Madison County (asst. technical director), and Head Over Heels (deck lead).
Jane Lanier
Jane is very happy to join the Elon faculty this year. Previously, she was at Roosevelt University in Chicago as Head of Musical Theater with a Dance Concentration program. Jane is a proud Union member, belonging to SDC, AEA, and SAG/AFTRA. As a performer, she did six Broadway shows and earned both Drama Desk and Tony Award Nominations.
Cassidy May Benullo
Cassidy is a first year Music Theatre major. She has loved getting to work on the incredible costumes for Spring Awakening, and can't wait for you to see this incredible show. Enjoy!
Duncan Sheik
DUNCAN SHEIK is a Grammy and Tony Award-winning artist who launched his career in 1996 with his Grammy nominated self-titled debut album. Sheik is the composer for the critically acclaimed musicalSpring Awakening, which went on to win eight Tony Awards in 2007, including awards for Best Orchestrations and Best Original Score. The album earned Sheik a Grammy Award for Best Musical Show Album. In years since, Sheik has released multiple albums, most recently Claptrapin 2022 and American Psycho: Original London Cast Recording, with lyrics and music written by Sheik, premiered in the U.S. on Broadway in 2016 after a sold-out London run. His most recent theater projects include Alice By Heart, The Secret Life of Bees, Because of Winn Dixie, Bob & Carol & Ted & Alice, Nero, and Noir.Theatre credits include; Spring Awakening (2006) Tony Awards for "Best Original Score" and "BestOrchestrations," 2008 Grammy Award for "Best Musical Show Album", The Secret Life of Bees (Almeida Theatre in London April 2023, Atlantic Theatre Company 2019), Noir (The Alley Theatre 2022), Nero (London 2023), Memoirs of An Amorous Gentleman (In Development), Alice by Heart (MCC Theater 2019), Because of Winn-Dixie (Goodspeed Opera House 2019, Alabama Shakespeare Festival 2017, Delaware Theatre Company 2015), Bob & Carol & Ted & Alice (The New Group 2020), Whisper House (London 2017, Old Globe Theater 2011), American Psycho (2016).Recordings include; Claptrap (2022) American Psycho Original London Cast Recording (2016), Legerdemain (2015) Covers 80s (Sneaky Records 2011), Whisper House (Sony 2009), Spring Awakening (Original Broadway Cast Recording) (2006), White Limousine (Rounder 2006), Daylight (Atlantic Records 2002), Phantom Moon (Nonesuch 2001), Humming (Atlantic Records 1998), Duncan Sheik (Atlantic Records 1996).
AnnMarie Milazzo
Composer/lyricist: Pretty Dead Girl, Sundance Film Festival.  Vocal arranger: Broadway productions of Spring Awakening and Next to Normal.  Bright Lights, Big City at The New York Theater Workshop, and the Paramount feature film, The Marc Pease Experience.  AnnMarie is a Grammy nominated singer from The East Village Opera Company on Universal/Decca.
Steven Sater
Steven Sater won Tony Awards for Best Book and Best Score, as well as the Grammy Award, both the NY and UK Drama Critics' Circle, and the Olivier Award for Best New Musical for Spring Awakening. A revival of Spring Awakening, produced by Deaf West Theatre, was Tony-nominated for Best Musical Revival. The recent Almeida Theatre revival received the London Critics' Circle Theatre Award for Best Musical. In November 2021, the original Broadway cast reunited for a one-night benefit, which is now the subject of the HBO documentary, Spring Awakening: Those You've Known. Sater's other musicals include Alice by Heart (National Theatre of London, MCC Theater, novel version from Razorbill/Penguin Random House); The Nightingale (La Jolla Playhouse); Prometheus Bound (A.R.T.); Nero (Magic Theatre, NYSAF, forthcoming in London); and Some Lovers (music by Burt Bacharach, The Old Globe, Grammy-nominated album from Broadway Records). His pop songs have been recorded by artists such as Michael Bublé, Dionne Warwick, and Leslie Odom Jr. TikTok: @steven_sater. Instagram: @stevensater
Andrew France
Andrew is a Sophomore BFA Music Theater major, and he is so excited to be making his Elon Mainstage debut in Spring Awakening. Some of his favorite credits include: Leaf Coneybear in 25th...Spelling Bee, Billy Flynn in Chicago, and Steven Kodaly in She Loves Me. He would like to thank you for coming to see the show and hopes you enjoy it! @andrewlfrance