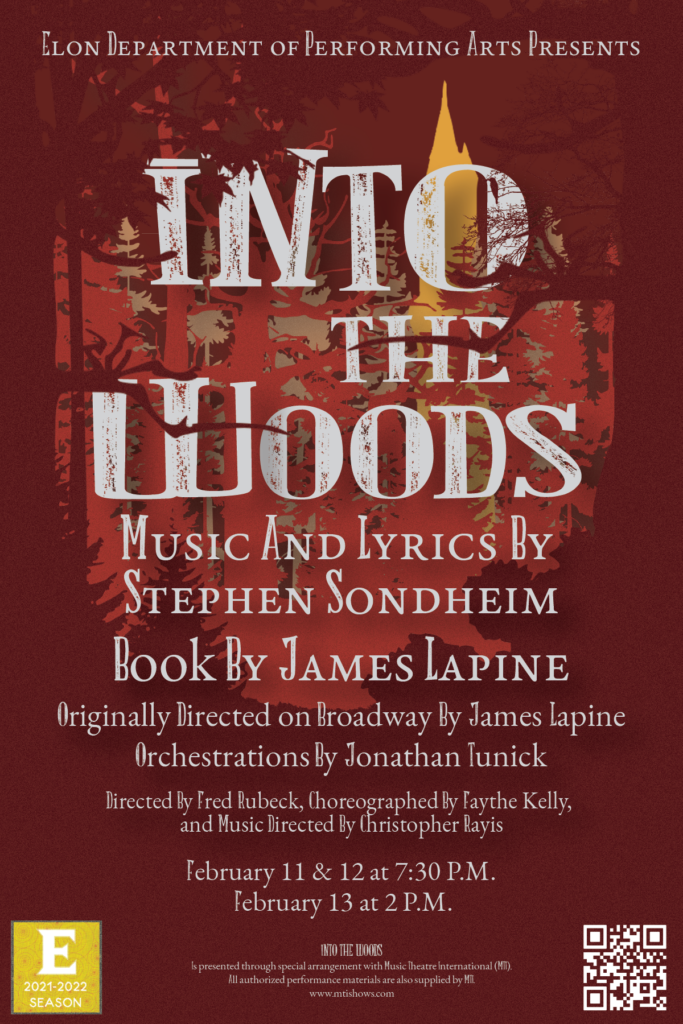 Original Broadway production by Heidi Landesman, Rocco Landesman, Rick Steiner, M. Anthony Fisher, Frederic H. Mayerson, and Jujamcyn Theatres.
Originally produced by the Old Globe Theater, San Diego, CA.
Any video and/or audio recording of this production is strictly prohibited.
In compliance with the Healthy Elon protocols, all audience members – regardless of vaccination status – must wear masks in indoor campus spaces. Student artists who have not completed post-quarantine isolation periods are required by the University to wear N95/KN95 masks.
Director's Notes
I have been hoping to direct Into the Woods since I first heard the original-cast Broadway recording over thirty years ago. At that time, I admired the cleverness of the concept (this was long before Shrek!) and the mind-blowing depth of its wordplay (about the cow, Milky White: "while her withers wither with her" Who in the world dreams up lyrics like that?!?) Sondheim had me hooked since I first saw Sweeney Todd years prior- this cemented the deal. I soon began to learn the breadth and depth of Mr. Stephen Sondheim's contributions to theatre history. Mr. Sondheim's recent death saddened us all. While this production was in planning for months prior to his demise, I hope today that our version of Into the Woods can serve as our modest memorial to his theatrical genius. There shall never be another.
I recall at the time hearing some critics referencing Into the Woods as a kind of allegory for the AIDS crisis. One who knows the era can easily find references to those times and the struggles so many endured. But I think to link the play to that era exclusively shortchanges its value as a work of art. Could this musical not speak to a nation shaken to its core by the unthinkable attacks of 9/11? Could the "giant" we battle today not be a global pandemic?
Part of the genius of this work lies in its ability to connect to the audience of any era at the human level. This is not a documentary about a baker and his wife- it's not about health crises or murderous attacks. Into the Woods asks each of us to consider what do we dream and wish; to ponder the joy and folly of our dreams; to ask what do we fear, and what will we do to get what we wish; and how will we handle the reality the next morning?
What is your wish? What giant do you battle?
I wish you all the best on your journey with us this evening.
Fredrick J. Rubeck,
Director
Special Thanks
Dr. Connie Book, Dr. Aswani Volety, Dr. Gabie Smith, Kimberly Rippy
Cast
Narrator
Gianni Palmarini
Cinderella
Skyler Sajewski
Jack
Brooks Andrew
Jack's Mother
Sara LiBrandi
Baker
Jakov Schwartzberg
Baker's Wife
Sujaya Sunkara
Cinderella's
Stepmother
Kayla Jacobs
Florinda
Camille Fundingsland
Lucinda
Kaylee Hayden
Cinderella's Father
Zion Middleton
Little Red
Ridinghood
Kelly Belarmino
Witch
Hannah Ellowitz
Cinderella's
Mother
Taylor Ann Mitchell
Mysterious
Man
Jaron Cole
Wolf
Timothy Brausch
Granny
Kali Clougherty
Rapunzel
Jackie Mate
Rapunzel's
Prince
Nathan Meyer
Cinderella's
Prince
Brendan Coulter
Steward
Alexander Carnot
Giant
Abby Harnum
Snow White
Giselle Watts
Sleeping Beauty
Micah Day
Mysterious
Man U/S
Gianni Palmarini
Narrator U/S
Jaron Cole
Giant, Witch U/S
Taylor Ann Mitchell
Wolf U/S
Brendan Coulter
Cinderella's
Prince U/S
Timothy Brausch
Jack's Mother,
Stepmother U/S
Kali Clougherty
Cinderella's Mother U/S
Abby Harnum
Little Red
Ridinghood U/S
Giselle Watts
Baker, Jack U/S
Erik Houck
Cinderella,
Rapunzel, Florinda, Lucinda U/S
Caroline Borio
Rapunzel's
Prince U/S
Micah Day
Baker's Wife U/S
Faythe Kelly
Swing
Weston LeCrone
Creative Team
Director
Fredrick J. Rubeck
Associate Director
Brian Kremer
Assistant to the Director
Weston LeCrone
Choreographer
Faythe Kelly
Music Director
Christopher Rayis
Scenic Designer
Charles G. Johnson
Costume Designer
Jack Smith
Puppets
Charles G. Johnson
Sound Designer
Sarah Adams
Lighting Designer
Bill Webb
Stage Manager
Sydney Bell
Asst. Stage Managers
Haley Robles
Kayla Jordan
Production Team
Production
Manager
Bill Webb
Technical Director
Eric Kanzinger
Asst. Technical Director
JP Mullican
Costume Shop Manager
Heidi Jo Scheimer
Props Director
Natalie Taylor Hart
Props Supervisor
Jeff A.R. Jones
Props Artisans
Anna Gullion
Jonathan Jensen
Payton Robinson
John Lee Rudolph
Eduardo Sanchez
Jake Whitman
Scenic Artist
Elizabeth Brady
Light Board Op
Natalie Wykle
Followspot Ops
Aubee Billie
Tara Venkataraman
Audio Engineer
Sarah Adams
Audio 2
Brianna Boucher
Sound Board Op
Alan Kornbluth
Deck Chief
Eric Kanzinger
Deck Crew
Bryant Howard
Sitare Sadeghi
Fly Operator
Charles Castro
Wardrobe Crew
Emily Stober
Delaney Lynch
Front-of-House Supervisor
David McGraw
House Managers
Keri Anderson
Ella Huestis
Jack Morrill
Poster Design
Sydney Dye
Musical Numbers
Act 1
"Prologue: Into the Woods"……Company
"Hello, Little Girl"…….Wolf, Little Red Riding Hood
"I Guess This is Goodbye"…….Jack
"Maybe They're Magic"…….Baker's Wife
"Our Little World"…….Witch, Rapunzel
"I Know Things Now"…….Little Red Ridinghood
"A Very Nice Prince"…….Cinderella, Baker's Wife
"Giants in the Sky"…….Jack
"Agony"…….Cinderella's Prince, Rapunzel's Prince
"It Takes Two"…….Baker, Baker's Wife
"Stay With Me"…….Witch
"On the Step of the Palace"…….Cinderella
"Ever After"…….Narrator, Company
Act 2
"Prologue: So Happy"…….Company
"Agony"…….Cinderella's Prince, Rapunzel's Prince
"Lament"…….Witch
"Any Moment"…….Cinderella's Prince, Baker's Wife
"Moments in the Woods"…….Baker's Wife
"Your Fault"…….Jack, Baker, Witch, Little Red Ridinghood
"Last Midnight"…….Witch
"No More"…….Baker, Mysterious Man
"No One Is Alone"…….Cinderella, Little Red Ridinghood, Baker, Jack
"FINALE: Children Will Listen"…….Company
Bios