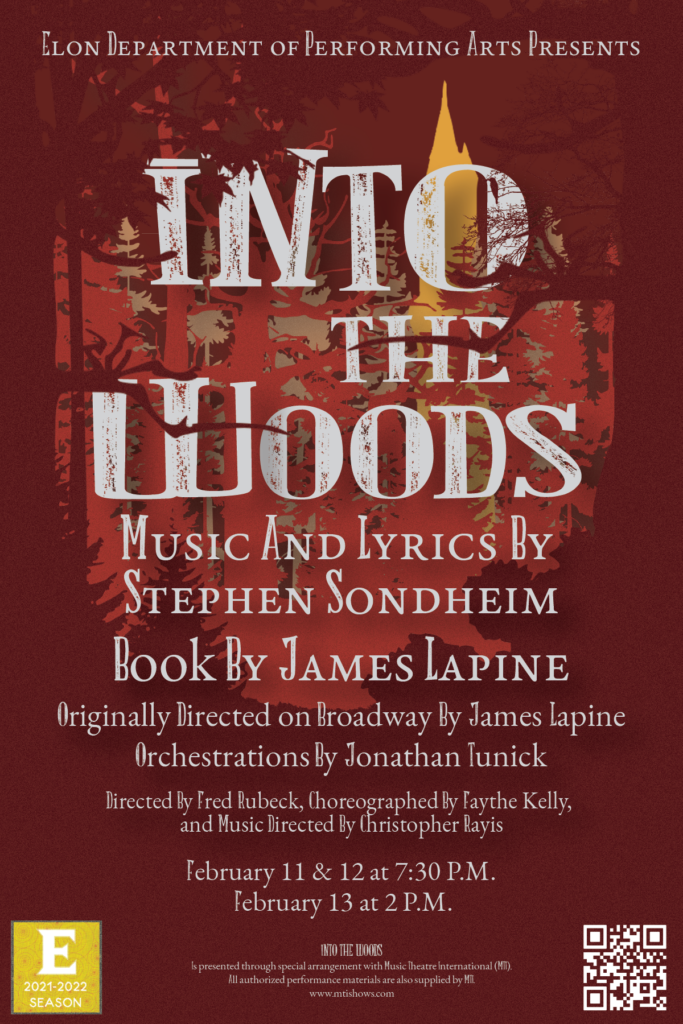 Original Broadway production by Heidi Landesman, Rocco Landesman, Rick Steiner, M. Anthony Fisher, Frederic H. Mayerson, and Jujamcyn Theatres.
Originally produced by the Old Globe Theater, San Diego, CA.
Any video and/or audio recording of this production is strictly prohibited.
In compliance with the Healthy Elon protocols, all audience members – regardless of vaccination status – must wear masks in indoor campus spaces. Student artists who have not completed post-quarantine isolation periods are required by the University to wear N95/KN95 masks.
Director's Notes
I have been hoping to direct Into the Woods since I first heard the original-cast Broadway recording over thirty years ago. At that time, I admired the cleverness of the concept (this was long before Shrek!) and the mind-blowing depth of its wordplay (about the cow, Milky White: "while her withers wither with her" Who in the world dreams up lyrics like that?!?) Sondheim had me hooked since I first saw Sweeney Todd years prior- this cemented the deal. I soon began to learn the breadth and depth of Mr. Stephen Sondheim's contributions to theatre history. Mr. Sondheim's recent death saddened us all. While this production was in planning for months prior to his demise, I hope today that our version of Into the Woods can serve as our modest memorial to his theatrical genius. There shall never be another.
I recall at the time hearing some critics referencing Into the Woods as a kind of allegory for the AIDS crisis. One who knows the era can easily find references to those times and the struggles so many endured. But I think to link the play to that era exclusively shortchanges its value as a work of art. Could this musical not speak to a nation shaken to its core by the unthinkable attacks of 9/11? Could the "giant" we battle today not be a global pandemic?
Part of the genius of this work lies in its ability to connect to the audience of any era at the human level. This is not a documentary about a baker and his wife- it's not about health crises or murderous attacks. Into the Woods asks each of us to consider what do we dream and wish; to ponder the joy and folly of our dreams; to ask what do we fear, and what will we do to get what we wish; and how will we handle the reality the next morning?
What is your wish? What giant do you battle?
I wish you all the best on your journey with us this evening.
Fredrick J. Rubeck,
Director
Special Thanks
Dr. Connie Book, Dr. Aswani Volety, Dr. Gabie Smith, Kimberly Rippy
Cast
Narrator
Gianni Palmarini
Cinderella
Skyler Sajewski
Jack
Brooks Andrew
Jack's Mother
Sara LiBrandi
Baker
Jakov Schwartzberg
Baker's Wife
Sujaya Sunkara
Cinderella's
Stepmother
Kayla Jacobs
Florinda
Camille Fundingsland
Lucinda
Kaylee Hayden
Cinderella's Father
Zion Middleton
Little Red
Ridinghood
Kelly Belarmino
Witch
Hannah Ellowitz
Cinderella's
Mother
Taylor Ann Mitchell
Mysterious
Man
Jaron Cole
Wolf
Timothy Brausch
Granny
Kali Clougherty
Rapunzel
Jackie Mate
Rapunzel's
Prince
Nathan Meyer
Cinderella's
Prince
Brendan Coulter
Steward
Alexander Carnot
Giant
Abby Harnum
Snow White
Giselle Watts
Sleeping Beauty
Micah Day
Mysterious
Man U/S
Gianni Palmarini
Narrator U/S
Jaron Cole
Giant, Witch U/S
Taylor Ann Mitchell
Wolf U/S
Brendan Coulter
Cinderella's
Prince U/S
Timothy Brausch
Jack's Mother,
Stepmother U/S
Kali Clougherty
Cinderella's Mother U/S
Abby Harnum
Little Red
Ridinghood U/S
Giselle Watts
Baker, Jack U/S
Erik Houck
Cinderella,
Rapunzel, Florinda, Lucinda U/S
Caroline Borio
Rapunzel's
Prince U/S
Micah Day
Baker's Wife U/S
Faythe Kelly
Swing
Weston LeCrone
Creative Team
Director
Fredrick J. Rubeck
Associate Director
Brian Kremer
Assistant to the Director
Weston LeCrone
Choreographer
Faythe Kelly
Music Director
Christopher Rayis
Scenic Designer
Charles G. Johnson
Costume Designer
Jack Smith
Puppets
Charles G. Johnson
Sound Designer
Sarah Adams
Lighting Designer
Bill Webb
Stage Manager
Sydney Bell
Asst. Stage Managers
Haley Robles
Kayla Jordan
Production Team
Production
Manager
Bill Webb
Technical Director
Eric Kanzinger
Asst. Technical Director
JP Mullican
Costume Shop Manager
Heidi Jo Scheimer
Props Director
Natalie Taylor Hart
Props Supervisor
Jeff A.R. Jones
Props Artisans
Anna Gullion
Jonathan Jensen
Payton Robinson
John Lee Rudolph
Eduardo Sanchez
Jake Whitman
Scenic Artist
Elizabeth Brady
Light Board Op
Natalie Wykle
Followspot Ops
Aubee Billie
Tara Venkataraman
Audio Engineer
Sarah Adams
Audio 2
Brianna Boucher
Sound Board Op
Alan Kornbluth
Deck Chief
Eric Kanzinger
Deck Crew
Bryant Howard
Sitare Sadeghi
Fly Operator
Charles Castro
Wardrobe Crew
Emily Stober
Delaney Lynch
Front-of-House Supervisor
David McGraw
House Managers
Keri Anderson
Ella Huestis
Jack Morrill
Poster Design
Sydney Dye
Musical Numbers
Act 1
"Prologue: Into the Woods"……Company
"Hello, Little Girl"…….Wolf, Little Red Riding Hood
"I Guess This is Goodbye"…….Jack
"Maybe They're Magic"…….Baker's Wife
"Our Little World"…….Witch, Rapunzel
"I Know Things Now"…….Little Red Ridinghood
"A Very Nice Prince"…….Cinderella, Baker's Wife
"Giants in the Sky"…….Jack
"Agony"…….Cinderella's Prince, Rapunzel's Prince
"It Takes Two"…….Baker, Baker's Wife
"Stay With Me"…….Witch
"On the Step of the Palace"…….Cinderella
"Ever After"…….Narrator, Company
Act 2
"Prologue: So Happy"…….Company
"Agony"…….Cinderella's Prince, Rapunzel's Prince
"Lament"…….Witch
"Any Moment"…….Cinderella's Prince, Baker's Wife
"Moments in the Woods"…….Baker's Wife
"Your Fault"…….Jack, Baker, Witch, Little Red Ridinghood
"Last Midnight"…….Witch
"No More"…….Baker, Mysterious Man
"No One Is Alone"…….Cinderella, Little Red Ridinghood, Baker, Jack
"FINALE: Children Will Listen"…….Company
Bios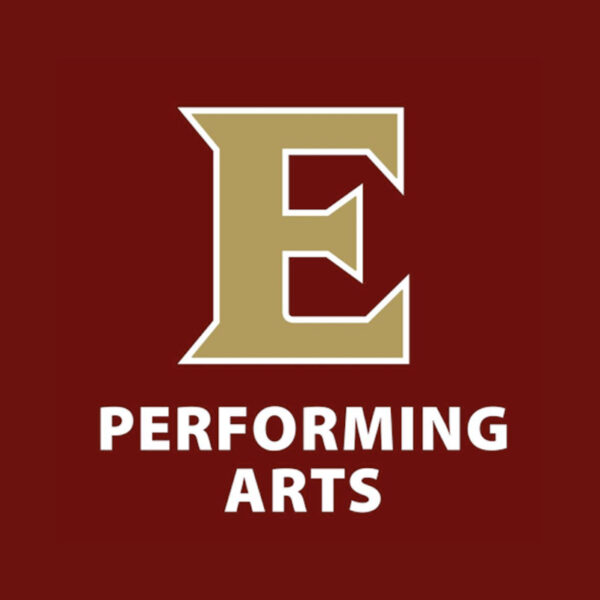 Musical Theatre International
Fred Rubeck
Fred is completing his 33rd year at Elon and is one of the founding members of the Department of Performing Arts. He coordinates the BFA Acting program and served as Department Chair for twelve years. He has directed nearly one hundred productions at theaters in the midwest and on the east coast. Local audiences may remember some of his favorite Elon productions, including Instant Laughter, You Can't Take It With You, Angels In American, Noises Off!, Lend Me a Tenor, The Shadow Box, and many more. They may also remember his performances in the roles of the Stage Manager in Our Town, and Beverly in August: Osage County.
JP Mullican
JP has served as the Performing Arts Technical Director since Fall 2017. Prior to Elon, he worked as a lead craftsperson and project manager on productions such as Paw Patrol Live. Outside of Elon, he continues work as a freelance technical designer on productions such as the Frozen Australian Tour, The Beauty and the Beast in Shanghai, and The Phantom of the Opera World Tour. In his free time, JP builds custom furniture and runs an ever-increasing number of virtual Dungeons & Dragons campaigns. He couldn't do any of this without the constant support of his amazing partner.
Brian Kremer
Professor Brian Kremer is Associate Program Director and Assistant Professor of Music Theatre, as well as a professional singer, actor, and voice instructor. He teaches courses in voice specializing in contemporary singing and performance styles including music theatre, rock, pop, country, R&B and hip-hop. Beyond the classroom, he is co-author of The Singing Teacher's Guide to Transgender Voices, the first comprehensive resource developed for training transgender and nonbinary singers. Its goal is to aid in the development of a successful vocal pedagogy and to help the academic community better understand the specific needs of transgender students as it pertains to vocal training. His current and former students can be seen performing on Broadway, off-Broadway, on national and international tours, and at various concert and commercial venues.
Chris Rayis
Broadway: FROZEN. National Tour: Hamilton; Charlie and the Chocolate Factory; Elf; Man Of La Mancha. Film: The Last 5 Years. Off-Broadway: Far From Heaven; Cruel Intentions. TV: Jeopardy!; Who Wants To Be A Millionaire?. Proud part-owner of Manchester United, the world's greatest football club.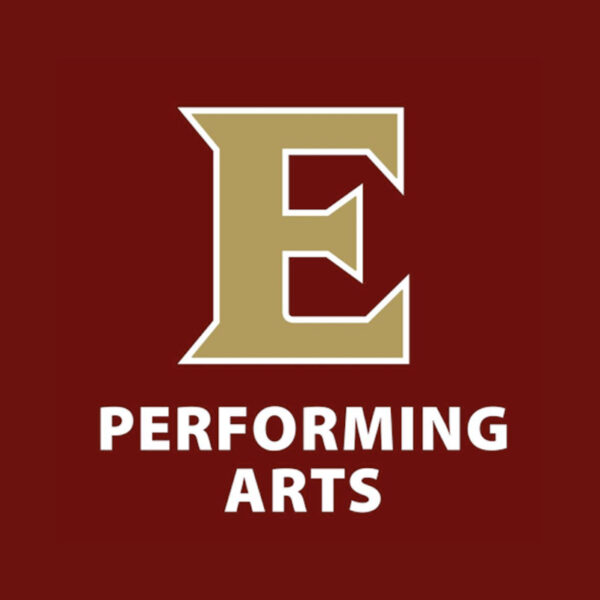 Jack A. Smith
Jack is an Associate Professor of Performing Arts. He has worked at many regional theaters from The Orlando Shakespeare Theater to The Actor's Theater of Louisville. He spends most of his summers either working at a small theater in Missouri (City of Maples Rep) or traveling the world looking at textiles, antique garments, or cultural wonders. His passions include antique textiles (specifically American Women's Costume from the 19th century and the politics of 18th-century French fashions) and his dog, Neha!
Faythe Kelly
Faythe is a senior Music Theatre major and Dance minor and is so excited to be a part of this production! You may have seen her onstage in Grand Night, Elon Cares, Collage, or The Elephant Man. She has also worked behind the table at Elon on The Bubbly Black Girl Sheds Her Chameleon Skin (Asst. Choreo) and Into The Woods (Choreographer). Thank you to Elon Music Theatre for making me the artist I am today and to my friends and family for always supporting me through everything. Fail Forward.
Sarah Kay Adams
Sarah is a junior now, here at Elon, a double major in Arts Administration and Theatre Design/Technology with a concentration in sound and light. In her most recent shows, she was the Sound Designer for Concord Floral here at Elon and Audio Technician 1 at the Bigfork Summer Playhouse for Guys and Dolls, Mamma Mia, Freaky Friday, and The Full Monty. She had so much fun creating with the dancers and choreographer, and would like to thank everyone who has helped her through this process: friends, family, faculty and staff. Sarah hopes you enjoy the show!
Brooks Andrew
Brooks is thrilled to be performing in Grand Night in person this year! Brooks is currently a Junior Music Theatre major at Elon and hails from Boston, MA. His past favorite roles include Jack (Into the Woods, Elon University) and Sky (Mamma Mia!, Walnut Hill School for the Arts). Brooks is looking forward to making his professional theatre debut this summer as a company member at Wagon Wheel Center for the Arts playing 'Prince Topher' in Cinderella and 'Charlie Dalrymple' in Brigadoon. Brooks would like to extend a special thanks to his family back home, his Music Theatre Class of '23, and his Vizsla puppy "Rugby". Find him on Instagram @brooks_andrew
Sydney Bell
Sydney Bell is a senior Theatrical Design and Technology and Arts Administration major from Atlanta, Georgia. She is honored to work with so many talented artists and is overjoyed to close out her Elon career with this beautiful show. Sydney's notable Elon credits include Beast Mode Champion (Stage Manager), We Will Rock You (Asst. Stage Manager), and Clown Bar(Asst. Stage Manager). Sydney has enjoyed working with this wonderful team and is excited to share this production with everyone! Sydney would like to thank her parents and friends for their love and support.
Caroline Borio
Caroline is a sophomore Music Theater major and Honors Fellow from Plymouth Meeting, Pennsylvania. She is so excited to be performing (in person!) alongside her incredibly talented peers this year. She would like to thank her peers, the performing arts faculty, and her family for their continuous support.
Brianna Boucher
Brianna Boucher (She/Her) is a junior pursuing a double major in Arts Administration and Theatrical Design and Technology with focuses in stage management and costumes. Recent Credits Include: Concord Floral (Stage Manager), Bye Bye Birdie (Asst. Costume Designer), Buried Deep (Asst. Costume Designer), Movin' On (Asst. Costume Designer), The 25th Annual Putnam County Spelling Bee (Stage Manager), Bridging: The Spring Dance Concert (Stage Manager).
Timothy Scott Brausch
I am so grateful to have the opportunity to close out my performance career at Elon with this powerful and moving show, just as I closed out my high school performance career with the same one. Thank you to my professors, family, and friends for guiding me along the way.
Kelly Belarmino
Kelly Belarmino is a Senior Music Theatre Major at Elon University. She was most recently seen at Forestburgh Playhouse as Alice in Alice In Wonderland, Ali in Mamma Mia! and in the ensembles of Something Rotten and Kinky Boots. Her favorite Elon credit is Little Red in Into The Woods. She would like to thank her friends and family for being constants in her life.
Alexander Carnot
Alexander Carnot is a sophomore BFA acting major and is thrilled to be making his mainstage debut. He previously understudied 1st Correspondent in last year's production of Euripides' Medea.
Charlie Castro
Charlie is a sophomore music theatre major at Elon University. He is a Miami, Florida native. He is overjoyed to be making his Elon mainstage debut as part of the Head Over Heels ensemble. Some of his past favorite roles include Hot Blades Harry in Urinetown, Harry Houdini in Side Show, & Javert in Les Miserables. He wants to thank his family & friends for all of their constant support in all of his artistic endeavors. He is incredibly grateful to be doing what he loves most.
Kali Clougherty
Kali is a senior Music Theatre major and is excited to perform in her final Grand Night. She was previously seen in Elon's productions Into the Woods and Beast Mode Champion. She wants to thank her professors, family, and friends for their support during her 4 years at Elon.
Jaron Cole
A senior in the Music Theatre and Arts Administration programs. Elon highlights: Spelling Bee (Director/Choreographer), Into the Woods (Mysterious Man), the President of Renegade Productions, and the Artistic Director of Elon Cares for the last two years. Jaron has worked administratively with The Muny and The Shakespeare Theatre of NJ. Thank you friends and family!
Brendan Coulter
Brendan is overjoyed to be taking his final bow at Elon as Cinderella's Prince in Into The Woods. Previously, at Elon, you may have also caught Brendan as Buddy in We Will Rock You, Beast Mode Champion, or Damn Yankees. Brendan would like to thank his family and friends for their continuous support. For more on Brendan, check out his website: brendancoulter.com
Micah Day
Micah Day is a Junior Musical Theatre major at Elon University and could not be more excited to get this show up and running! He was last seen this summer in Label•Less: A New Musical (Cast Member) in Cincinnati, Ohio, where he was born and raised! Elon: Into The Woods (Sleeping Beauty/Rapunzels Prince U/S) Micah would like to thank his family and friends for pushing him to be the performer he is today! Sit back, relax, laugh a little, and enjoy the show! @micah.andrew
Hannah Ellowitz
Hannah is a senior Music Theatre major at Elon, originally from Ft Lauderdale, FL. She most recently played the Witch in Elon's winter production, Into the Woods. Special thanks to her friends and family for their endless love and support throughout her journey at Elon. See more at hannahellowitz.com, @hannahellowitz
Camille Fundingsland
Camille Fundingsland is a second year BFA Musical Theatre Major all the way from San Diego, California. She is incredibly excited to take part in her first Elon production as Lorraine in 42nd Street. Recent credits include Little Women (Beth), Xanadu (Kira), and Newsies (Katherine). Special thanks to her voice professor Dr. Polly, Mom, Dad, and her little sis Audrey for all the support! Instagram: @camille_nf
Abby Harnum
Abby Harnum is a current proud member of the Music Theatre BFA class of 2023 here at Elon University. Most recently, Abby traveled to Florence, Italy this past summer and performed in the Ensemble of La Bohéme and La Traviata. She has also been seen as Gertrude McFuzz in the Bucks County Playhouse Youth Company's production of Seussical and as Sister Sophia in their production of The Sound of Music. Abby is very grateful to be a part of this production and she'd like to thank her friends, family and the Elon faculty for their support.
Kaylee Hayden
Kaylee (she/her) is a Senior in the BFA Music Theatre program while also pursuing a minor in Music Technology. Previously at Elon, she recently played Lucinda in Into The Woods, as well as understudied in The Bubbly Black Girl Sheds Her Chameleon Skin. Kaylee is an executive member of Vital Signs A Cappella, serving as the PR Chair. She is so grateful for her four years at Elon and getting to conclude with this incredible show. She sends all of her love and gratitude to her family, friends, VS fam, MT23, this crazy cast, and Cole <3
Erik Houck
Erik is super excited to be performing here at Elon alongside his peers! Previous roles Erik has played include Tom of Warwick in the Broadway tour of Camelot and Roger in ITS's Rent.
Bryant Howard
Bryant is an Elon Music Theatre senior, and this is his last show at the university. Other university credits include 42nd Street (Ensemble) and Movin' On (Scott u/s). This past summer, Bryant was at Timber Lake Playhouse fulfilling various roles in the summer season. Some credits include Khashoggi (We Will Rock You), Kyle/Dance Captain (Legally Blonde), Tony (West Side Story), Danny Zuko (Grease), as well as the regional premiere of Escape To Margaritaville at Timber Lake Playhouse. Bryant would like to thank his friends, his class (superstars MT23), his family, and the creative team for all of their hard work on the show. Enjoy the show!
Kayla Jordan Jacobs
Durham, NC native, Kayla Jordan Jacobs is currently a Senior at Elon University and is working toward a B.F.A in Music Theatre and B.A. in Arts Administration. Her most recent credits include "Stepmother," in Into the Woods and "Granny," in The Bubbly Black Girl. Kayla is grateful and excited to be performing in her very last Grand Night and would like to thank God and her family for getting her through these last four years!
Eric Kanzinger
Eric is currently a senior at Elon studying Theatrical Design and Technology with a focus in technical direction and scenic construction with a minor in communications. He has been a part of the theatre world since sixth grade, both acting and working backstage, but fell in love with the technical world at the end of his high school career. Eric would like to thank the wonderful design team, directing team, actors, professors, and his family for helping him get to where he is today and for creating such a wonderful show.
Weston LeCrone
Weston is thrilled to be on both sides of the table for his final Elon credit! Previous Elon productions include 42nd Street, Fugitive Songs, Damn Yankees, Bent, and #silenced (Co-Director). Regional/professional credits include The Sound of Music (Beef & Boards), Mamma Mia, Mary Poppins (The Prizery), And Then They Came For Me (Indiana Rep). Special thanks to the cast, crew, and creative team for all their dedication to this project. Much love to Mom and Dad.
Sara LiBrandi
Sara LiBrandi (she/her) is a Junior Musical Theatre Major minoring in Women Gender and Sexuality Studies. Sara was thrilled to get the opportunity to spend her fall semester studying acting in London this year! Additionally, she's so thankful to have played Jack's Mom in last year's production of Into The Woods, as well as serve as a student coordinator for Elon Cares, and direct multiple numbers in Grand Night and Collage over the past 2 years. She is so grateful for her Elon Community, friends, and family for their endless support.
Jacqueline Mate
Jacqueline Mate, a senior BFA Music Theatre Major, is thrilled to be playing Philoclea in Head Over Heels! Selected Theatre Experience: Beauty & The Beast (Belle), Into The Woods (Rapunzel), Cabaret (Helga). Jacqueline has also performed various times throughout NYC & CT (Metropolitan Room, The Klein, Downtown Cabaret). She thanks her family, friends and professors for their never ending love and support. Instagram: @jacquelinemate TikTok: @jacquelinemate_
Kayla Jordan
Kayla Jordan is a sophomore TDT major from Nashville, Tennessee. Previous Elon credits Into The Woods (Assistant Stage Manager). Previous professional credits: Steel Magnolias (Stage Manager) and Murder On The Orient Express (Stage Manager) at Weathervane Playhouse.
Taylor Ann Mitchell
Taylor Ann is excited and a little sad to be performing tonight in her final Collage! She is a senior this year and is so excited see what her last year at Elon has in store. She would like to thank her friends and family for their endless support. She would also like to thank her incredible professors and mentors for the support and knowledge they have given her. She hopes you enjoy the show!
Laney Lynch
Laney Lynch is a Sophomore BFA Acting Major at Elon. This is Laney's debut at Elon University as she was Understudy for Heart of Shrapnel (Elon University), Production Assistant for Sense and Sensibility (Elon University), and Assistant Director for Cherry Orchard (Elon University). For more follow Laney_lync!
Zion Middleton
Zion Middleton is a junior BFA Music Theatre major from McDonough, Ga. His passion for social justice and change in today's society is what drives his need to perform. Outside of performing he enjoys directing, playing soccer, and working at the Boys and Girl's Club of Alamance County. Other theatre credits include: Aldolpho in The Drowsy Chaperone, Judas in Godspell. Lucas in Bubbly Black Girl Sheds Her Chameleon Skin, and Fortinbras in Hamlet. Special thanks to his mother, grandmother and brother!
Haley Robles
Haley is a sophomore double major in Theatrical Design & Technology and Psychology from Lakeland, Florida! She is thrilled for you all to see this amazing show filled with so much talent and hard work. Her previous credits include Assistant Stage Manager for The Bubbly Black Girl Sheds Her Chameleon Skin. She hopes that you all enjoy the show and would like to thank her family, friends, and the wonderful company of 42nd Street!
Sitare Sadeghi
Sitare Sadeghi is a sophomore Music Theatre major with a minor in Piano Pedagogy. Previous roles include Ensemble in Movin' On, Sheila in Hair, Sally in Cabaret, Cinderella in Into The Woods, and Cassie in A Chorus Line. Sitare has also participated in Collage, Elon Cares, and Grand Night as a Music Director. Sitare is excited to continue her journey performing on the Elon stage and is thankful for all of the opportunities her family has provided her. She hopes you enjoy the show!
Skyler Sajewski
Skyler Sajewski is a senior Musical Theatre Major, with minors in Business and Literature. She is thrilled to be making her Elon Mainstage Debut as Cinderella in Into the Woods! You may have also seen her in Elon's production of The Wolves as #2. Skyler is honored to celebrate live theatre being back with such a stellar cast, crew, and creative team. Favorite credits include Julia (The Wedding Singer), Kate (Kiss Me Kate), and Dream Laurie (Oklahoma!). Much love to her family and friends, whose support and love mean everything in the world to her.
Sujaya Sunkara
Sujaya Sunkara is a senior BFA Music Theatre major from Cincinnati, OH. She was most recently seen as the Baker's Wife in Into The Woods here at Elon and Gabrielle in Cinderella at Shenandoah Summer Music Theatre. Sujaya would like to thank her friends, family, her dog Turk, and all of the Elon faculty and students for everything they have given her.
Emily Stober
Emily Stober (she/her) is so excited to be a part of her first main stage production at Elon University! She is a sophomore musical theatre major and college fellow from Hickory, NC. Emily is a graduate of the University of North Carolina School of the Arts High School Drama program. She would like to thank her family, friends and mentors for all of their love and support!
Tara Venkataraman
Tara is so excited to be performing again! Her past credits at Elon include Evil Gabbi in Renegades production of She Kills Monsters and Ensemble in the new musical Movin' On. Tara wants to thank her family for their endless support and love. She hopes you enjoy Collage!
Giselle Watts
Giselle is a senior Music Theatre major with a minor in Creative Writing from Richmond, VA! In her sophomore fall, she made her Elon Debut as an understudy in Beast Mode Champion. That same school year, she understudied in the Bubbly Black Girl Sheds Her Chameleon Skin and participated as the Community Outreach Coordinator for the show. You may have recently seen her last J-Term as Snow White/Little Red U/S in Into the Woods. Giselle is thankful for her family and friends and their constant support. This being Giselle's last Collage, she hopes that you will enjoy the show!
Musical Theatre International
Music Theatre International (MTI) is one of the world's leading theatrical licensing agencies, granting theatres from around the world the rights to perform the greatest selection of musicals from Broadway and beyond. Founded in 1952 by composer Frank Loesser and orchestrator Don Walker, MTI is a driving force in advancing musical theatre as a vibrant and engaging art form.MTI works directly with the composers, lyricists and book writers of these musicals to provide official scripts, musical materials and dynamic theatrical resources to over 70,000 professional, community and school theatres in the US and in over 60 countries worldwide.MTI is particularly dedicated to educational theatre, and has created special collections to meet the needs of various types of performers and audiences. MTI's Broadway Junior™ shows are 30- and 60-minute musicals for performance by elementary and middle school-aged performers, while MTI's School Editions are musicals annotated for performance by high school students.MTI maintains its global headquarters in New York City with additional offices in London (MTI Europe) and Melbourne (MTI Australasia).
James Lapine
JAMES LAPINE is a playwright and director. On Broadway he has worked with Stephen Sondheim on Sunday in the Park with George; Into the Woods; and Passion. He also conceived and directed the musical review Sondheim on Sondheim. With William Finn he created Falsettos recently revived by Lincoln Center Theater; Little Miss Sunshine; Muscle; and directed Finn's The 25th Annual Putnam County Spelling Bee. Other Broadway credits include his play based on Moss Hart's memoir Act One (also LCT), Amour, The Diary of Anne Frank, Golden Child, and Dirty Blonde. He has written the plays Table Settings, Twelve Dreams, The Moment When, Fran's Bed and Mrs. Miller Does Her Thing. Lapine has been nominated for eleven Tony Awards, winning on three occasions. He has also been the recipient of the Pulitzer Prize, SDC's Mr. Abbott Award for Lifetime Achievement in the Theater, and inducted into the Theater Hall of Fame.
Stephen Sondheim
STEPHEN SONDHEIM wrote the music and lyrics for Saturday Night (1954), 
A FUNNY THING HAPPENED ON THE WAY TO THE FORUM
 (1962), 
ANYONE CAN WHISTLE
 (1964), 
COMPANY
 (1970), 
FOLLIES
 (1971), 
A LITTLE NIGHT MUSIC
 (1973), 
THE FROGS
 (1974), 
PACIFIC OVERTURES
 (1976), 
SWEENEY TODD
 (1979), 
MERRILY WE ROLL ALONG
 (1981), 
SUNDAY IN THE PARK WITH GEORGE
 (1984), 
INTO THE WOODS
 (1987), 
ASSASSINS
 (1991), 
PASSION
 (1994) and 
ROAD SHOW
 (2008) as well as lyrics for 
WEST SIDE STORY
 (1957), 
GYPSY
 (1959) and 
DO I HEAR A WALTZ?
 (1965) and additional lyrics for 
CANDIDE
 (1973). Anthologies of his work include 
SIDE BY SIDE BY SONDHEIM
 (1976), 
MARRY ME A LITTLE
 (1981), 
YOU'RE GONNA LOVE TOMORROW
 (1983), 
PUTTING IT TOGETHER
 (1993/99) and 
SONDHEIM ON SONDHEIM
 (2010). He composed the scores of the films "Stavisky" (1974) and "Reds" (1981) and songs for "Dick Tracy" (1990) and the television production "Evening Primrose" (1966). His collected lyrics with attendant essays have been published in two volumes: "Finishing the Hat" (2010) and "Look, I Made A Hat" (2011). In 2010 Broadway's Henry Miller's Theatre was renamed The Stephen Sondheim Theatre in his honour; in 2019, London's Queens Theatre was also renamed the Sondheim.