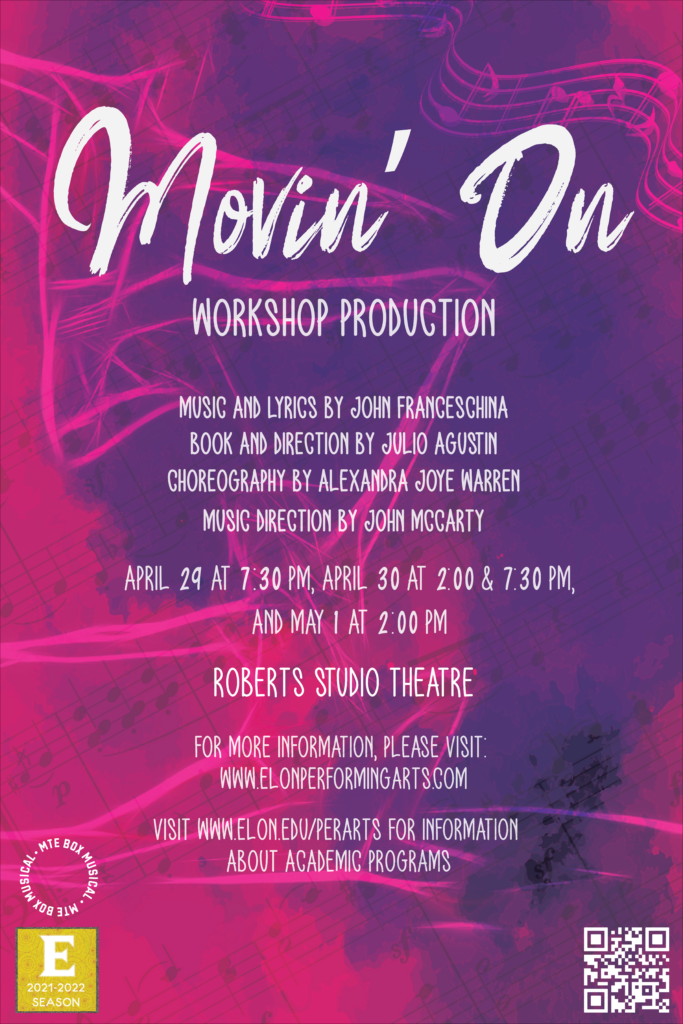 In accordance with Healthy Elon policies, this event is under an indoor mask optional policy. Masks are required for anyone experiencing COVID-like symptoms and anyone who has not completed five days after the five-day isolation period after a positive test. Those who have not received their vaccination and booster, who are at elevated risk, or who have family members at risk are strongly encouraged to continue the use of masks indoors.
Special Thanks
Natalie Hart, Charles Johnson, Michael Smith, Jack Smith, Heidi Jo Schiemer, JP Mullican, Bill Webb, David McGraw
Cast
Timothy
Andy Edelman
Rachel
Anna Hertel
Alex
Anne-Sophie Hill
Mary Ann
Hannah Kevitt
Scott
Tyler Okunski
Linda
Julianne Roberts
Ensemble
Tristan Altobelli
Collin Flanagan
Candace Rhodes
Sitare Sadeghi
Summer Severin
Tara Venkataraman
Timothy (u/s)
Charlie Pelletier
Rachel (u/s)
Jaid Green
Alex (u/s)
Zeth Dixon
Mary Ann (u/s)
Mallorie Sievert
Scott (u/s)
Bryant Howard
Linda (u/s)
Mia McManamy
Swings
Jacob Atkins
Kyra Britt
Ella Huestis
Creative Team
Director
Julio Matos
Assistant to the Director
Jaid Green
Choreographer
Alexandra Joye Warren
Assistant Choreographer
Zeth Dixon
Music Director
John McCarty
Asst. Student Music Directors
Tristan Altobelli
Candace Rhodes
Scenic Designer
Elizabeth Brady
Costume Consultant
Jack Smith
Asst. Costume Consultant
Brianna Boucher
Sound Designer
Michael Smith
Lighting Designer
Hannah Brown
Asst. Lighting Designer
Sarah Adams
Production Team
Production Manager
Bill Webb
Technical Director
JP Mullican
Stage Manager
Jessica Valente
Asst. Stage Manager
Becca Wyckoff
Costume Shop Manager
Heidi Jo Scheimer
Light Board Op
Sean Mikesh
Sound Board Op
Mia Johnson
Deck Crew
Gavin Connors
Allison Durand
Wardrobe Crew
Jonathan Jensen
Front-of-House Supervisor
David McGraw
House Managers
Keri Anderson
Jack Morrill
Laura McGuire
Poster Design
Sydney Dye
The Band
Conductor: John McCarty
Piano: Tyson Hankins
Bass: Rebecca Marland
Contractor: Kate Hopper
Musical Numbers
Prologue: On the Line
"Movin' On"……….Company
Scene 1: The Legacy Robe Ceremony
Company
Scene 2: Auditioning
"Next"……….Company
Scene 3: Backstage Chatter
"The Company You Keep"……….Company
"Color Blind"……….Alex, Linda, Rachel, Mary Ann
Scene 4: Dance Class
"No More Fairy Tales"……….Alex
"On Pointe"……….Rachel
Scene 5: Dating
"I Know How to Be Lonely"……….Linda
"When Love Has Gone"……….Mary Ann
"My Heart Danced"……….Timothy
Scene 6: Swings
"Swings"……….Company
"Mambo Parody"……….Company
Scene 7: The Understudy Contract
"Understudy Chorale"……….Company
Scene 8: Understudy Rehearsal
"I Never Knew"……….Mary Ann, Timothy, Scott
"Better Than"……….Timothy, Alex, Linda, Rachel
Scene 9: The Stroman Audition
"What I Missed"……….Scott
Scene 10: What's Next?
"Movin' On" Reprise……….Mary Ann, Timothy, Scott, Linda, Rachel
Scene 11: The Big Break
"Out of Line"……….Linda
Scene 12: Another Opening Night
"The Broadway Legacy Robe"……….Company
Bios