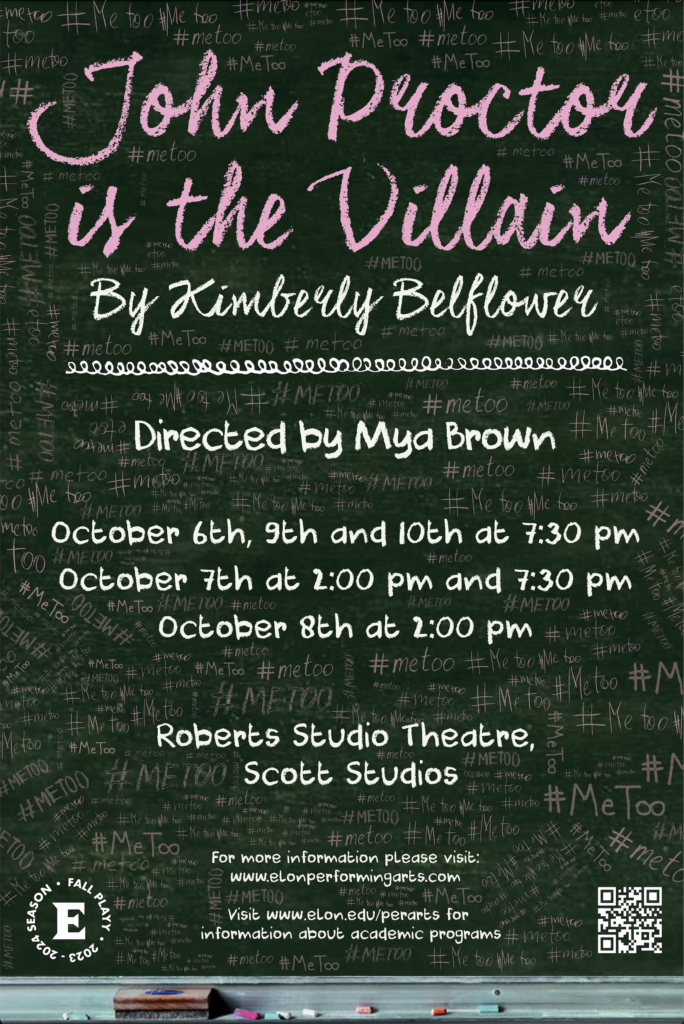 JOHN PROCTOR IS THE VILLAIN is presented by special arrangement with Broadway Licensing, LLC, servicing the Dramatists Play Service collection. (www.dramatists.com)
Director's Note
Kimberly Belflower's John Proctor is the Villain is one of my favorite plays. Her examination of Arthur Miller's The Crucible through the eyes of contemporary teenage minds makes for thought-provoking and entertaining theatre. I am honored to work alongside my mentor, Professor Kim Shively, on this riotous and essential piece of American art. Like the playwright I was taught to revere John Proctor. Mr. Smith calls him "one of the greatest heroes of the American Theatre." But is he? You, the audience, must consider whether John Proctor was driven by genuine remorse and a desire for redemption, or if he was motivated by self-preservation. Belflower has provided the parallel story of Mr. Carter Smith as a conduit for your interrogation of the original play. Our Abigail Williams, Shelby Holcomb, has faced the "slings and arrows of outrageous fortune." She must overcome the impacts of societal norms and public pressures that label her as crazy and antagonistic to reveal the true villain of our story. With the help of her friends, she might conquer the world, or at least this "one-stoplight town in Georgia." Enjoy and please discuss as you exit the theatre. Bravo to the cast and the entire production team. You are in for a treat! ~ Mya Brown
Special Thanks
Connie Book, Rebecca Kohn, Gabie Smith, Fred Rubeck, Natalie Hart, Kimberly Rippy, Greg Thorn, Mike Smith, Charles Johnson, Kayla Higbee, Heidi Jo Schiemer, David McGraw, Susanne Shawyer, Kevin Otos, Kim Shively, Elon Gender and LGBTQIA+ Center
Cast
| | |
| --- | --- |
| Mr. Carter Smith | Alex Carnot |
| Ms. Bailey Gallagher | Cara Johnson |
| Beth Powell | Sarah Cadol |
| Ivy Watkins | Kelly Gillan |
| Lee Turner | Brett Turnbull |
| Mason Adams | Sam Olt |
| Nell Shaw | Monique Fogg |
| Raelynn Nix | Isabella Shaffer |
| Shelby Holcomb | Deborah Han |
| Charlotte Grace, u/s Raelynn Nix | Claire Keel |
| Davis, u/s Mr. Carter Smith | Conrad Hall |
| Bella, u/s Nell Shaw | Makenzie Pridgen |
| Tony, u/s Mason Adams | Gabe Tobierre |
| Erin, u/s Beth Powell | Anabelle Sumera-Decoret |
| u/s Ms. Bailey Gallagher | Annika Benander |
| u/s Ivy Watkins | Ailish O'Brien |
| u/s Lee Turner | Owen Harsch |
| u/s Shelby Holcomb | Ella Schultz |
Production Team
Director
Mya Brown
Dramaturg
Matthew Bobzien
Costume Designer
Kayla McBratney
Sound Designer
Jasmine Smith
Lighting Designer
Sophia Walper
Technical Director
Luis Silva
Stage Manager
Becca Wycoff
Asst. Stage Manager
Eliza Gregory
Production Manager
Charles Johnson
Costume Shop Manager
Heidi Jo Schiemer
Props Coordinator
Jeff A.R. Jones
Sound Advisor
Mike Smith
Lighting Advisor
Gregory Thorn
Costume Advisor
Kayla Higbee
Light Board Op
Aubrey Kocsis
Sound Board Op
Kavalon Mills
Deck Crew
Dylan Levison
Caroline Moore
Wardrobe Crew
Ankita Balaji
MJ Schaeffer
Avery Smith
Front-of-House Supervisor
David McGraw
House Managers
Lillian Chen
Emily Moxon
Poster Design
Sydney Dye
Bios
Matthew Bobzien
Matthew Bobzien is a Senior from Raleigh, NC double majoring in Drama & Theatre Studies and Arts Administration. Matthew's recent Elon credits include Game Over (Lighting Designer), Alone Together (NewWorks, Director and Producer), Devine (Luminosity, Lighting Designer), Concord Floral (Assistant Director), Remains (NewWorks, Producer), Sense and Sensibility (Assistant Dramaturg), and Sensory Overload (NewWorks, Playwright and Director). He is a member of Elon Performing Arts' improv troupe, Instant Laughter. They are also the president of Elon NewWorks and a member of the 2024 Queer Arts Festival steering committee. Matthew would like to thank his family, friends, and mentors for their support.
Alexander Carnot
Alexander Carnot is a senior BFA Acting major and is thrilled to be involved in his first main stage play at Elon University. Alexander's previous credits at Elon include Into the Woods and 25th Annual Putnam County Spelling Bee. He would like to thank his family for all their support and all the faculty at Elon University for providing him an excellent education. Also, please donate to the senior BFA acting fundraiser! https://gofund.me/d99ace15
Monique Fogg
Monique Fogg is a Senior BFA Acting Major from Durham, North Carolina. She is thrilled to be playing Nell. She would like to thank her mother and sister for their constant support. Other credits at Elon University include Sense and Sensibility (Gossip). Instagram : @moniquefoggg
Cara Johnson
Cara Johnson is a senior BFA Acting major from Paris, Tennessee. While at Elon, Cara has stepped into multiple roles within the performing arts department including Elinor in Sense and Sensibility, Attendant U/S in Medea, and even worked as an Assistant Stage Manager for The Inferior Sex. Post graduation Spring 2024, Cara plans to further pursue a professional career in stage and screen performance.
Kayla McBratney
Kayla is a senior Arts Administration major with a minor in Theatrical Design & Technology. She is so excited to make her costume design debut with John Proctor is the Villain!! Special shoutout to acting '24, Kayla Higbee, Heidi Jo and the cast!!!!!
Jasmine Smith
Jasmine Smith (she/her) is a senior BFA Acting major with a minor in Theatrical Design & Technology. This is her first sound credit for Elon University. She would like to thank the design team and the faculty advisors for all their support during this process.
Brett Turnbull
Brett Turnbull is a senior BFA Acting major from Westchester, New York. He is thrilled to be making his Elon main stage debut as Lee Turner. Brett's past credits include Willoughby/John Dashwood U/S in Elon's Sense and Sensibility as well as film appearances in "Finding Us" (Thomas Film Productions) and "Pitch it 2 Me" (CTA Student Film). Brett would like to thank his family, friends and mentors for the support they have provided him. Instagram: @BTurnbull02
Sophia Walper
Sophia Walper is a junior with majors in Theatrical Design and Technology, and Psychology. This academic year Sophia will work as a lighting designer on John Proctor Is The Villain, Fall Dance 2023, and Myths and Hymns. Recent credits include: Clue, Black History Month Dance Concert, and Bridges of Madison County.
Anabelle Sumera-Decoret
Anabelle Sumera-Decoret (she/her) is a Sophomore BFA Acting Major from Seattle, Washington. Elon credits include: Concord Floral (8 (Fox) U/S) and Clue (Cook, Telegram, Cop, & Auxiliary Scarlet U/S). Instagram: @reality.asd
Sam Olt
Sam Olt is a Sophomore BFA Acting major who hails from the great state of Kentucky! His parents made the mistake of putting him on stage 8 years ago, and he's never looked back. He's excited to make his main stage debut after his understudy role in last year's fall play, Concord Floral. He would like to thank his friends, siblings and parents for their endless love. He would also like to thank Elon faculty for being wonderful mentors and giving him this amazing opportunity!
Isabella Shaffer
Isabella Shaffer is sophomore acting major, from Los Angeles, California. She is a recent UNCSA high school drama alum. Previous Elon credits include The Inferior Sex (Joan U/S & Madeleine U/S). Thanks to her family for traveling to see the performance. Enjoy the show!
Claire Keel
Claire Keel is thrilled to be a part of this amazing show. This is her first mainstage part, and she is so happy she got to witness the making of The Inferior Sex and understudy such incredible actresses. Previous credits include: Lily in Anastasia, Masha in The Three Sisters, and Emma in The Language Archive. She hopes you enjoy the show!
Mya Brown
Mya Brown (AEA, SDC) is an Assistant Professor and Co-Coordinator of the BFA in Acting at UNC-Greensboro. She is Assistant Faculty with Theatrical Intimacy Education, one of the nation's leading organizations in theatrical intimacy practices. She is excited to make her directorial debut at Elon University with Kimberly Belflower's beautiful and provocative play. Some of her favorite directing projects include A Midsummer Night's Dream, Sweat, Skeleton Crew and The Mountaintop. She hopes you enjoy the show and leave motivated to dance your troubles away. Follow her on Instagram and TikTok @myasturnnow.
Sarah Cadol
Sarah Cadol is a senior BFA Acting and Strategic Communications Double Major from Denver, Colorado. She is an intern at the Center for Leadership, President of EFFECT, and NewWorks Secretary. Select credits include: Film: Daisy in "The Loop", Susie in "Last Date", Cheyenne in "Pitch It To Me", Molly in "Chores", Violet in "The MPDG", and Luna in "La Luna". Theatre: Elle Woods in Legally Blonde, Hope Harcourt in Anything Goes, Elsa in Frozen, Dorothy Gale in The Wizard of Oz, and Ado Annie in Oklahoma! She is grateful to be in this incredible show with such talented artists. Enjoy!
Kelly Gillan
Kelly is a sophomore Acting major and is so excited to be making her Main Stage debut! She was the understudy for Yvette in Clue last spring. Her other past roles include Eva in Bring It On and Mote in Love's Labour's Lost. She would like to thank her family for always supporting her. She hopes you enjoy the show!
Jeff A.R. Jones
Jeff A.R. Jones (Fight Director) has staged fights and/or scenes of intimacy for over 200 shows in theatre, opera, and ballet. His fights have received rave reviews in The Washington Post and The New York Times. He is recognized as a Fight Director, Certified Teacher, and Theatrical Firearms Instructor by the Society of American Fight Directors. He is a Certified Intimacy Director with Intimacy Directors and Coordinators. He is on faculty at Elon and William Peace University and can be contacted at jarjones@att.net about his fight classes in Raleigh or the new Triangle Intimacy Lab.
Deborah Han
This is Deborah's second show and first MainStage show at Elon! She has loved learning and being able to be a part of such an amazing production!
Kayla Higbee
Kayla Higbee (she/her) is a Costume Designer and a Limited Term Assistant Professor at Elon University. Selected Costume Designs: Men on Boats (Tantrum Theatre), Tall Girls (Independent Production), Twelfth Night (Centre College), Superior Donuts (AthensWest Theatre Company), Assasains (Centre College), Objects in the Mirror (Tantrum Theatre), Stitched With a Sickle and a Hammer (Ohio University), The Wolves (Ohio University). Other: Assistant to the Costume Designers, Texas Shakespeare Festival (2022), Wardrobe Supervisor, Berkshire Theatre Group (2015-2019), Resident Costume Designer, Centre College (2014-2018). MFA, Ohio University.
Gabe Tobierre
Gabe Tobierre is a sophomore Music Theatre Major and is so thrilled to be back for Collage! He worked this summer at the New London Barn Playhouse in Guys & Dolls, Beautiful: The Carole King Musical, and The Wedding Singer. He can next be seen as a part of this year's fall play: John Proctor is the Villain which runs October 6-10 in Roberts Studio Theatre! He hopes you have a grand ole' time watching this years version of Collage!
Lillian Chen
Lillian is a first-year Elon student from New Jersey who serves as House Manager for the Performing Arts Program. She is a double major in Theatrical Design & Technology and Journalism coming from a stage management background and she is so excited to be a part of the Elon Performing Arts!
Annika Benander
Annika Benander is so excited to be working on their first Elon University mainstage production! Annika recently graduated high school from the University North Carolina School of the Arts as a part of the Calliope Acting Ensemble, and is now a first year Acting BFA major here at Elon! She is so excited to begin this new journey and is so grateful to the whole John Proctor Is The Villain team for creating such a supportive creative space to grow into.
Ailish O'Brien
Ailish O'Brien is a first-year Acting Major and Dance Minor from Southern Pines, North Carolina. She is beyond excited to be in her first mainstage production at Elon and hopes that everyone enjoys the show!
Owen Harsch
Owen Harsch is a first-year BFA Acting major from Davidson, North Carolina and is thrilled to be involved in his first play at Elon. Some of his favorite shows he's been a part of include Hough High School: High School Musical (Chad), Mamma Mia! (Bill), and Davidson Community Players: Mary Poppins (Featured Dancer). He would like to thank the cast and crew for such a great experience, and he is so excited for you to see the show!
Ella Schultz
Ella Schultz is a first-year BFA Acting major at Elon. She is proudly from Chicago, Illinois, and is so grateful to be a part of Elon's fall play. Ella has been a lover of acting since the fourth grade with favorite shows including, The Mystery of Edwin Drood (Rosa), Puffs! (Wayne) and Urinetown (Hope). She would like to thank her parents and siblings for always supporting her! Instagram: @Ella___Schultz