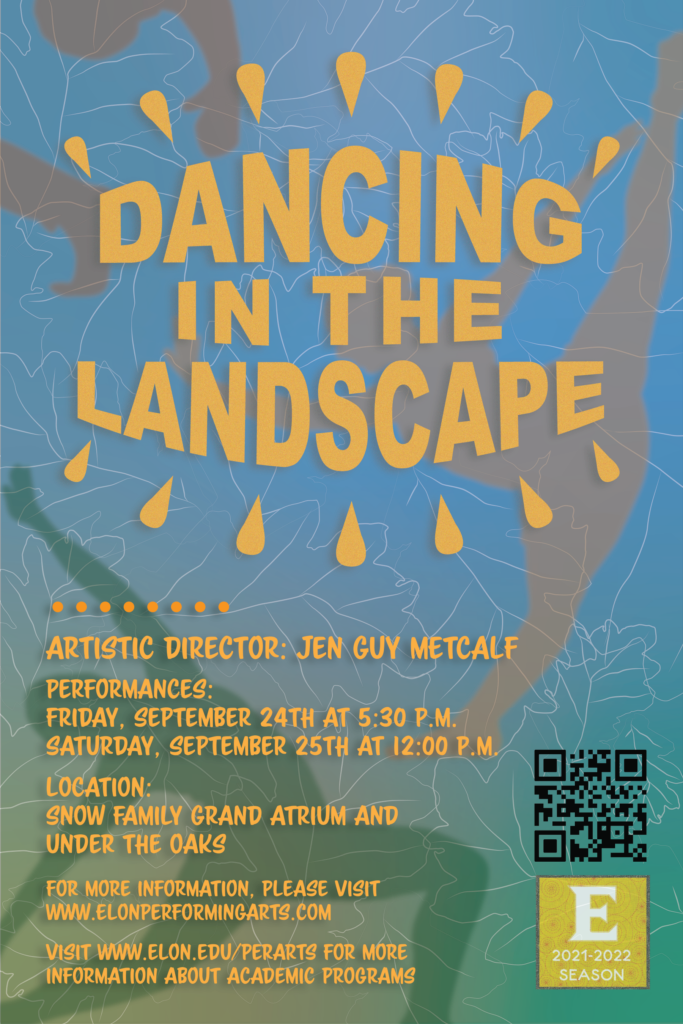 Director's Note
It is my pleasure to welcome an audience to the 2021 Dancing in the Landscape concert. This is our first in-person dance concert in approximately 565 days! Many thanks to students, staff and faculty who did their part to get where we are today. And much appreciation to all the members of Healthy Elon for their ongoing work to keep us informed and safe.
The production consists of nine original choreographic works by students, faculty, and a guest artist. The four pieces choreographed by our students were created during their time in Choreography I and II courses in the fall 2020 semester. The dance faculty selected these pieces so the students may continue to develop their work and adapt it to locations on-campus. The faculty choreographers and our guest artist created work specifically for locations. They considered various aspects of each site (architecture, history, environment, etc.) when generating choreography. The Department of Performing Arts acknowledges that the land currently occupied by Elon University is that of the Adshusheer, Catawba, Eno, Occaneechi, Sappony, Shakori, and Sissipahaw people. We pay respect to the Indigenous caretakers of these lands as a first step in the process of healing the wounds of our shared history.
This academic year, the Dance Program will celebrate the 10th anniversary of our Dance Science degree and the 15th anniversary of our Dance Performance & Choreography degree. We honor Professor Lauren Kearns for being a key creator of both degrees and as a co-architect, with Dr. Joyce Davis, for the Dance Science degree. We also celebrate all majors, minors, faculty, staff, alumni, and community members who have been involved in the Dance Program all these years. Happy anniversary!
Please review the rest of our digital program for information about all individuals involved in this production. There are also many people to thank, and we acknowledge them below. This concert truly takes a village to produce, and it could not be done without many people in our Elon community. A very special thanks to the School of Communications for the support and use of their beautiful space. I hope you enjoy the Dancing in the Landscape concert!
Best Wishes,
Jen Guy Metcalf
Special Thanks
Dean Ford, Bryan Baker, Colin Donohue, Lauren Kearns, Kimberly Rippy, Will Roberson, Michael Smith, David McGraw, Event Technology Support, Casey Avaunt, Renay Aumiller, and the Elon Acting faculty.
| | |
| --- | --- |
| Artistic Director | Jen Guy Metcalf |
| Assistant Director | Lauren Jacobbe |
| Costume Coordinator | Heidi Jo Schiemer |
| Concert Attendants | Callie Fabac & John Lee Rudolph |
| Front-of-House Coordinator | David McGraw |
| House Manager | Keri Anderson |
| Poster Design | Sydney Dye |