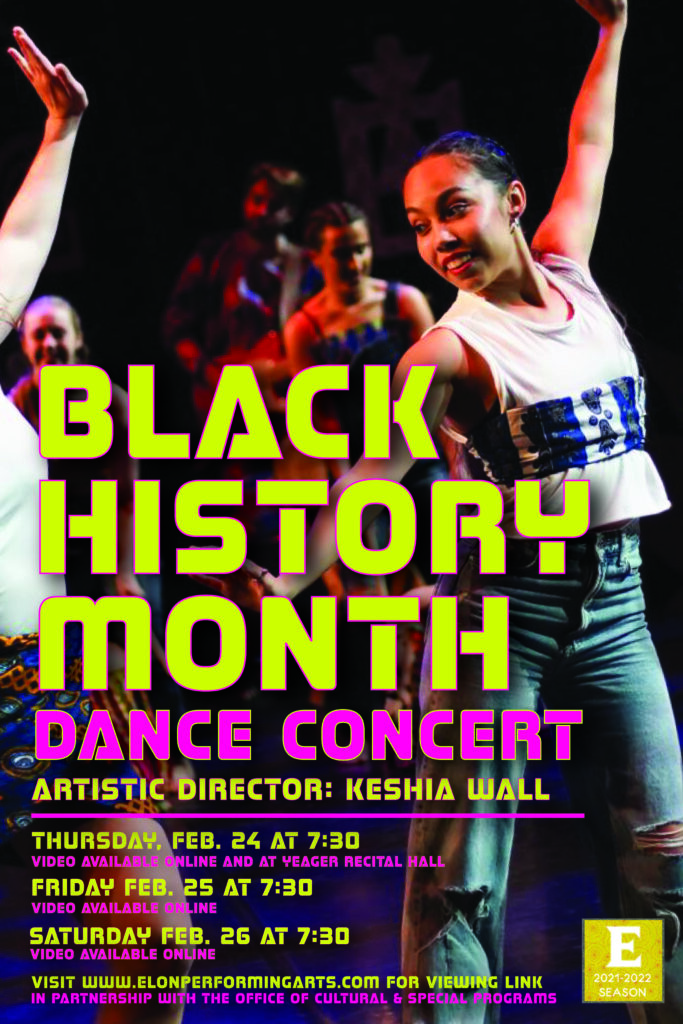 Director's Note
Welcome to the 2022 Black History Month Dance Concert! This year's concert celebrates various art forms of the African Diaspora. You will experience works from our very own faculty and students as well as local artists, Chelsi Yvonne & Take 2, Sean Hunter, and students from The Pointe!, a black owned dance studio in Greensboro, NC. We are so excited to share this evening of music, spoken word, and dance with you. Thank you for your viewing support.
In peace,
Professor Keshia Wall
Special Thanks
Jermaine Studwell, Kimberly Rippy, Patti Gibbons, Jennifer Guy Metcalf, Lauren Kearns, Greg Thorn, Rick Earl, Hannah Brown, Jeff Clark, Kim Shively, SGA, Michael Smith, Cultural & Special Programs, the Global Education Center, CREDE, and the Center for the Advancement of Teaching and Learning (CATL).
Production Team
Director
Keshia Wall
Scenic Designer
Charles Johnson
Costume Coordinator
Jack Smith
Sound Designer
Joe Quinde
Lighting Designer
Alicia Varcoe
Technical Director
JP Mullican
Stage Manager
Grace Granger
Asst. Stage Managers
Ayanna Bearden
Michael Leung
Alexander Schmidt
Sarina Smith
Props Coordinator
Natalie Taylor Hart
Film Crew
Jermaine Studwell
Global Majority Student Film Crew
Jordan Young
CiCi Johnson
Nina McDow
Steven Mmari
House Managers
Keri Anderson
Laura McGuire
Jack Morrill
Hosts
Zeth Dixon
Anne Sophie Hill
Pieces
Lift Every Voice & Black History Month Medley
Performed by Chelsi Yvonne & Take 2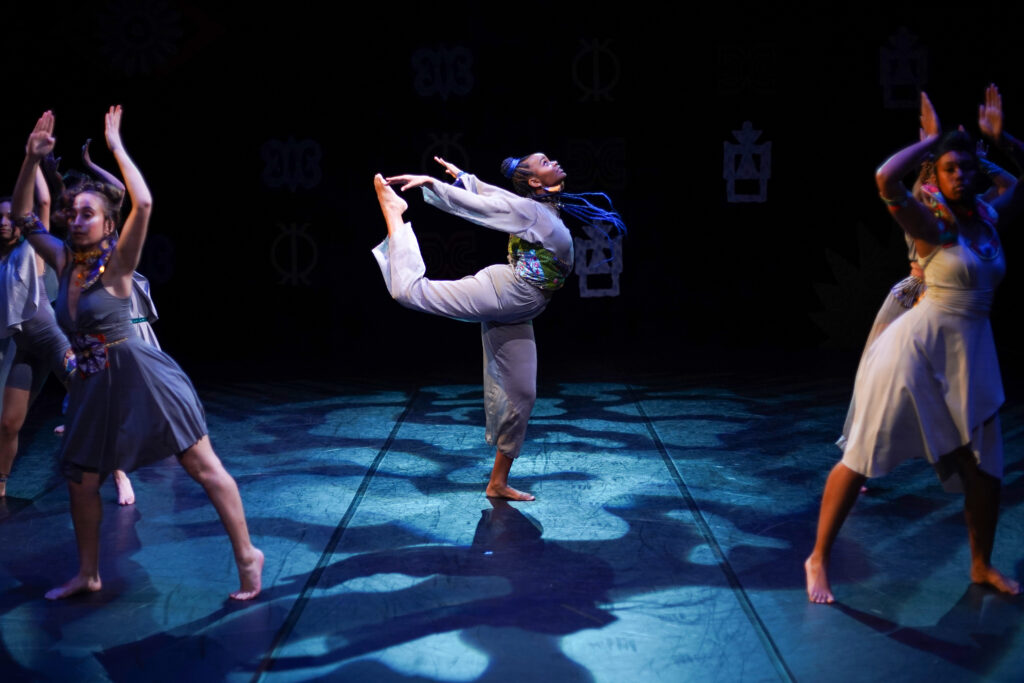 Gota & Kpatsa
Choreographed by Godson Atsu Sokpor
Music: Ghana Dance Ensemble Drummers
Costume Design: Godson Atsu Sokpur
Dancers: Jasmine Powell, Lucy Ham, Parker MacIntyre, Riley Corvin, Eukela Little, Carly Glickman, Emma Briskman, Katie Bauer, Kimmy Sessions, Nicole Patenaude, Molly Elrich, Renell Taylor, Sophie Campbell
Enthroned
Choreographed by Jasmine Powell in collaboration with performers
Music: Forrest Matthews, Bashir Shakur, Eli Wittmann
Costume Design: Jack Smith and Performers
Costume Assistant: Sarah Parks
Jewelry: BeCute Imporium
Hair Stylist: Cassidy M. Perry
Dancers: Haley Asbury, Caroline Bernardon, Eileena Boyce, Lauren Jacobbe, Sarah Parks, Maya Simmons, Allie Strouse
Understudy: Emma Morris
As we strive to highlight the everlasting effects of self-made empowerment, I wanted to support the rise of black entrepreneurs in Burlington by featuring jewelry from BeCute Imporium owned by Nicole Enoch (Elon class of '04). Mrs. Enoch is doing inspiring work for the Alamance black community by providing other black entrepreneurs the ability to showcase their merchandise in her storefront property in downtown Burlington. The significance of this dance and its partnership with the community is to pay homage to downtown Burlington's Black Bottom district, originally located on Worth Street in the 1920s. This was once a self-sustaining black-owned business district booming with empowered citizens of Alamance county before it was displaced twice during its existence. With the rise of black entrepreneurs in NC during 2021, we celebrate the honor of being guided by our black history to embody self-made empowerment.
What Does Black History Mean to You?
Choreographed by Keshia Wall in collaboration with Regina Tate
Dancers: Rachel Rorie, Rain Webb, Kennedy O'Neal, Logan Gunthrop, Dasia Amos, Chanel Turnbell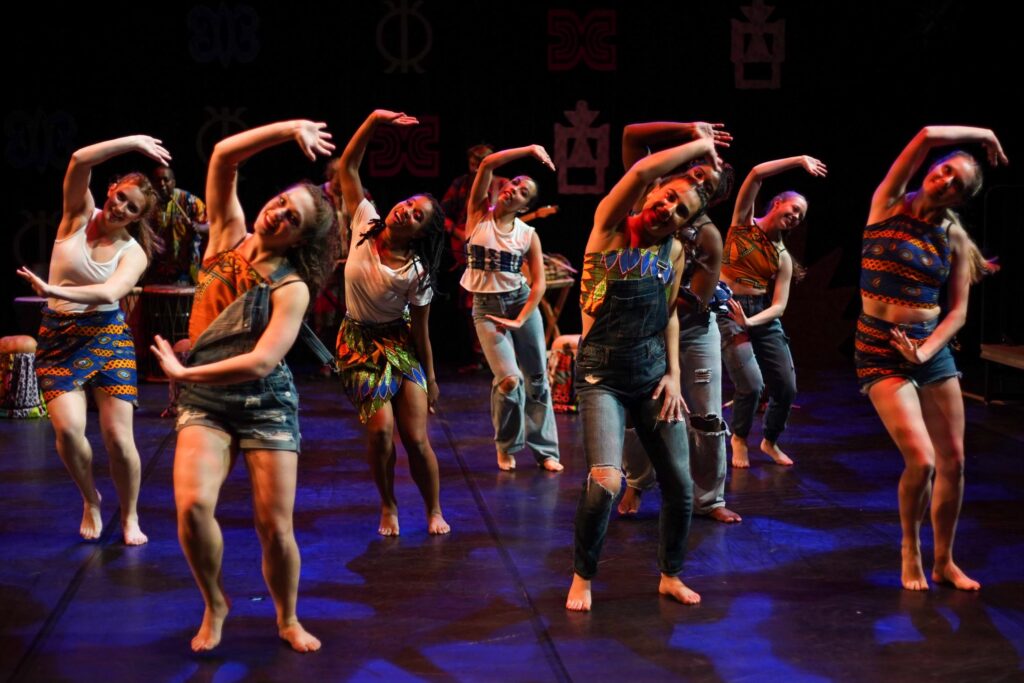 Tapestry
Spoken Word: Sean Hunter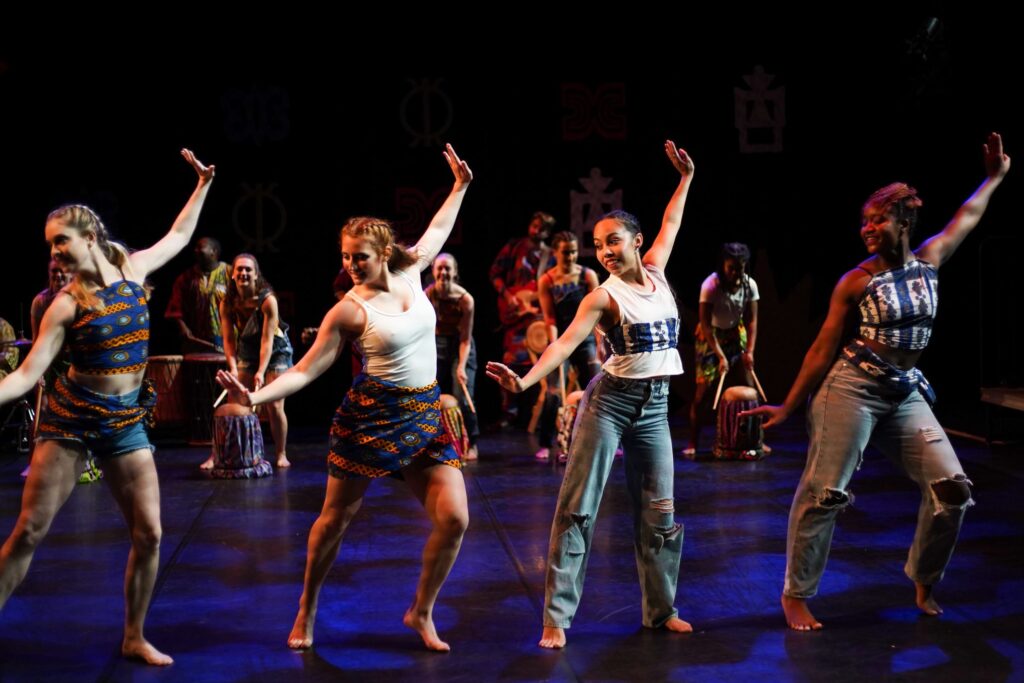 Yankadi, Makru, Sorsonet, & Dundunba
Choreographed by Keshia Wall
Music: Atiba Rorie, Forrest Matthews, Bashir Shakur, Eli Whittmann
Costume Design: Jack Smith and Performers
Lighting Design: Alicia Varcoe
Dancers: Maggie Adams, Sophie David, Derick Donato, Colin Flanagan, Lila Hoffman-Byer, Erick Houck, Mia Johnson, Makayla Kanerviko, Gabriel Logan, Parker MacIntyre, Khairi Morrow, Tyler Okunski, Cassidy M. Perry, Isabella Piccirilli, Kayla Spalding, Lauren Weinberg, Jessica Werfel, Erin Woods.
Another Love Song, Big Ole Freak, Before I Let Go
Choreographed by Dom Alexis
Music: Chelsi Yvonne & Take 2
Costume Design: Jack Smith
Lighting Design: Alicia Varcoe
Dancers: Maggie Adams, Caroline Bernandon, Caroline Booth, Madison Boyer, Phoebe Crumbine, Maggie Davenport, Hannah Giessler, Lia Kelly, Katie Lorber, Isabella Mao, Parker MacIntyre, Gaby Minionis, Khairi Morrow, Cassidy M. Perry, Sarah Rothacker, Summer Severin, Madeline Trigilio, Jessica Werfel, Erin Woods
Bios