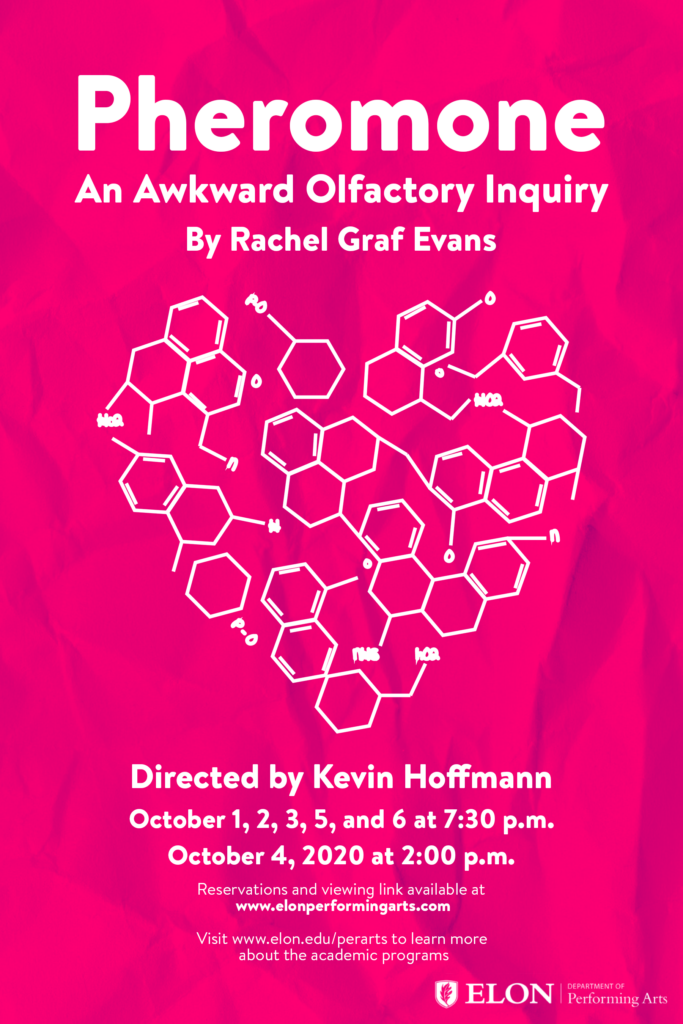 Director's Notes
In response to the global pandemic, the Department of Performing Arts has responded with a reimagined 2020-21 production season full of creative innovation, collaboration and new technology.
With our first production, we're focusing on new play development by announcing an exciting new award and launching a new partnership. Pheromone, by Rachel Graf Evans, is the inaugural winner of the Elon University Acting Program's New Play Award in cooperation and partnership with the Hollins University MFA Playwriting Program. We are extremely excited to begin this new partnership with Hollins' esteemed program and explore the educational synergies between us.
As this play is a fresh, new work in development, the playwright has been very involved in the production process, participating in casting, attending rehearsals, and tweaking the script for the digital medium – even writing a brand-new character for our production! The students have responded brilliantly to the challenge of being involved in a production that is continually evolving.
The characters of the play are in search of romance, affirmation, fulfillment and adoration; allowing attraction to guide them. Their fundamental need for connection and intimacy drives the play. So how does one stage theatrical intimacy and establish sincere connection when using a purely digital format? Can physical attraction and chemistry be portrayed over Zoom?
In our efforts to answer these questions, after months of caution, quarantining and social distancing, we became more keenly aware of how vital the ability to connect, human-to-human, really is.
We relate to the character's yearning with our own yearning for the days when we could hug a friend, shake hands or see one another's faces at the local store. Such connection, intimacy, touch and physical proximity seem like an absolute luxury now.
With a firm goal of safeguarding student health and learning, we undertook the pioneering of creating an all-virtual live production. This process has been full of new challenges around every corner as we've sought to take our existing knowledge and experience as theatre makers into a digital realm. It has required creativity, bravery, commitment and extreme innovation on the part of all involved to bring you what you will see here tonight.
As I remind students in class, "limitation breeds creativity." This case has been no different. Our department has partnered with School of Communications to harness new software and technology to bring you this live performance. The actors have learned to adapt their performances for the camera, while designers and technicians have undertaken new responsibilities, learned new skills and sought creative solutions to challenges met at every phase of the process.
The behind-the-scenes peek at our process reveals untold hours on Zoom, moments of frustration followed by jubilant breakthroughs, continual flexibility, patience and lots and lots and lots of deep breaths.
We hope that you enjoy this truly one-of-a-kind performance!
Sincerely,
Kevin Hoffmann
Special Thanks
Max Negin, Rachel Graf Evans, Todd Ristau, Fred Rubeck, Angie Roppo, Lauren Kearns, and Kimberly Rippy
Cast
| | |
| --- | --- |
| Ella | Jordan Kulick |
| Lourdes | Daniela Rodrigo |
| Olive | Markley Bortz |
| Paulie | Zion Middleton |
| Addy | Kendra Chideya |
| Kyle | Kenny Harvey |
| Claudia | Naiya Banks |
| Jim | Andrew Altmann |
| Shelby | Mari Blake |
| Voice | Carenna Slotkoff |
| Ella U/S | Brynn Lackey |
| Lourdes U/S | Kelly Belarmino |
| Olive U/S | Zoe Healey |
| Addy U/S | Monique Fogg |
| Kyle U/S | Alec Wilson |
| Claudia U/S | Carenna Slotkoff |
| Jim U/S | Jared Wise |
| Shelby U/S | Angelina Cerami |
| Voice U/S | Lauren Memery |
Production Team
| | |
| --- | --- |
| Director | Kevin Hoffmann |
| Assistant Director | Lauren Memery |
| Visual Designer | Emily George |
| Costume Designer | Jack Smith |
| Sound Designer | Michael Smith |
| Lighting Designer | Alex Nemfakos |
| Technical Designer | JP Mullican |
| Stage Manager | Allyson Vogel |
| Assistant Stage Manager | Peyton Otis |
| Assistant Stage Manager | Jules Schwartz |
| Production Manager | Bill Webb |
| Costume Shop Manager | Heidi Jo Scheimer |
| Props Master | Haley Richey |
| Sound Advisor | Michael Smith |
| Video Advisor | Max Negin |
| Video Operator | Chris Morrison |
| Front-of-House Supervisor | David McGraw |
| House Manager | Jack Morrill |
| Poster Design | Sydney Dye |
Bios
Rachel Graf Evans
(Playwright) Rachel Graf Evans (she/her) is Philadelphia-based writer and theatre artist. Currently a dual MFA Candidate, RGE is a member of the inaugural George and Joy Abbott Cohort for Musical Theatre Collaboration at Temple University, as well as a playwright in the Hollins University Playwright's Lab. Recent writing credits include: Randi and Roxanne (2020 Hollins Playwright's Lab Reading); Quartet (2019 Nayyar Kapur New Play Festival); Built to Float (2018 Essential Theatre Award for Georgia Playwrights). Proud member of Working Title Playwrights, New Play Exchange, and the Dramatists Guild. B.A. with High Honors: Theatre/Gender, Sexuality, and Feminist Studies (Oberlin College). An abundance of gratitude to everyone who helped grow this play. Stay tuned at www.rachelgrafevans.com
Max Negin
(Video Advisor) Assistant Professor of Cinema and Television Arts, Max Negin, a four-time Emmy award winner, has worked as an editor, writer and producer for various broadcast and cable outlets including NBC, ABC, FOX, ESPN, HBO and Comcast SportsNet, video coordinator for three seasons for Philadelphia Phillies TV and associate producer and broadcast coordinator for two seasons with the Philadelphia 76ers. Has worked for NBC Sports Olympics as a digital media manager six times: Beijing (2008), Vancouver (2010), London (2012), Socci (2014), and Rio (2016), and Pyeonchang (2018). Faculty director of Elon Sports Vision.
David McGraw
Prof. McGraw serves as the Program Coordinator for Arts Administration and the Front-of-House Supervisor for Performing Arts. Field research: Stage Manager Survey (2006-Present, www.stagemanagersurvey.com), Research Fellow for the Strategic National Arts Alumni Project (2021, www.snaaparts.org), South African Creative Industries Technical Staff Survey (2019), SM2030 Project (2020-Present, www.stagemanagersurvey.com), and Return to the Stage (2020-2021, www.returntothestage.com). His most recent professional credit has been stage manager for REBELLIOUS at Triad Stage. www.davidjmcgraw.com
Sydney Dye
Sydney Dye is a current senior studying Theatrical Design & Technology and Communication Design. This year, Sydney is very excited to be producing her Lumen project #silenced, with the help of many fellow Performing Arts students. She was a video design intern at The Muny in 2019, and returned as a production editor for The Muny Summer Variety Hour series in 2020. Her select Elon credits include, We Will Rock You (projection designer), Trojan Barbie (projection designer), The Wolves (stage manager) and Bent (stage manager). Sydney would like to thank her friends and family for their constant support.
Emily George
Emily is a senior Theatrical Design and Technology major and is thrilled to be working as the Scenic Charge on the mainstage Spring productions this year! All my love to the TDT department (past & present). You make this worth it. <3
Alex Nemfakos
Alex is a Senior TDT major with a concentration in lighting and stage management. This year she is the lighting designer on Heart of Shrapnel, Sense and Sensibilities, and The Cherry Orchard. Additionally, she is one of several lighting designers on the Fall Dance Concert and an assistant lighting designer on 42nd Street.
Peyton Otis
Peyton Otis is so grateful to be Stage Managing her third mainstage production at Elon University! A Senior Theatrical Design and Technology Major with a concentration in Stage Management, she wishes to thank the incredible cast, crew, and design team, as well as everyone in Elon Performing Arts for making this show possible. Past Elon credits include We Will Rock You (Assistant Stage Manager), Pheromone (Assistant Stage Manager), Medea (Stage Manager), and Heart of Shrapnel (Stage Manager).
Haley Richey
Haley Richey is a senior Theatrical Design and Technology Major with a concentration in Props and Makeup. She wants to thank the cast, production team, her family, and friends for their support of this production. Her previous credits include 42nd Street as the Props Manger, Pheromone as the Props Manager, and Trojan Barbie as the Makeup Designer.
Jack Morrill
Jack is a senior BFA Acting and BA Arts Administration double major from San Diego, California. Past Elon credits include: Sense and Sensibility (Mrs. Dashwood/Anne Steele), Beast Mode Champion (Mr. Bergman/Others), and Spelling Bee (William Barfée). Jack is a Lumen Scholar exploring Queer Theory and Arts Administrative Practices. IG: @jack.morr | @queering.the.stage
Jules Schwartz
(Assistant Stage Manager) Elon shows: Assistant Stage Manager for Violet, Assistant Stage Manager for Pheromone.
Allyson Vogel
Allyson Vogel is a senior majoring in Biology and Theatrical Design and Technology with a focus in stage management. She is excited to assistant technical direction and lead the crew for Clue! Her recent shows include Head Over Heels (assistant lighting designer) and 42nd Street (stage manager). She is so proud of all the hard work put into this show, and she looks forward to the rest of her senior year.