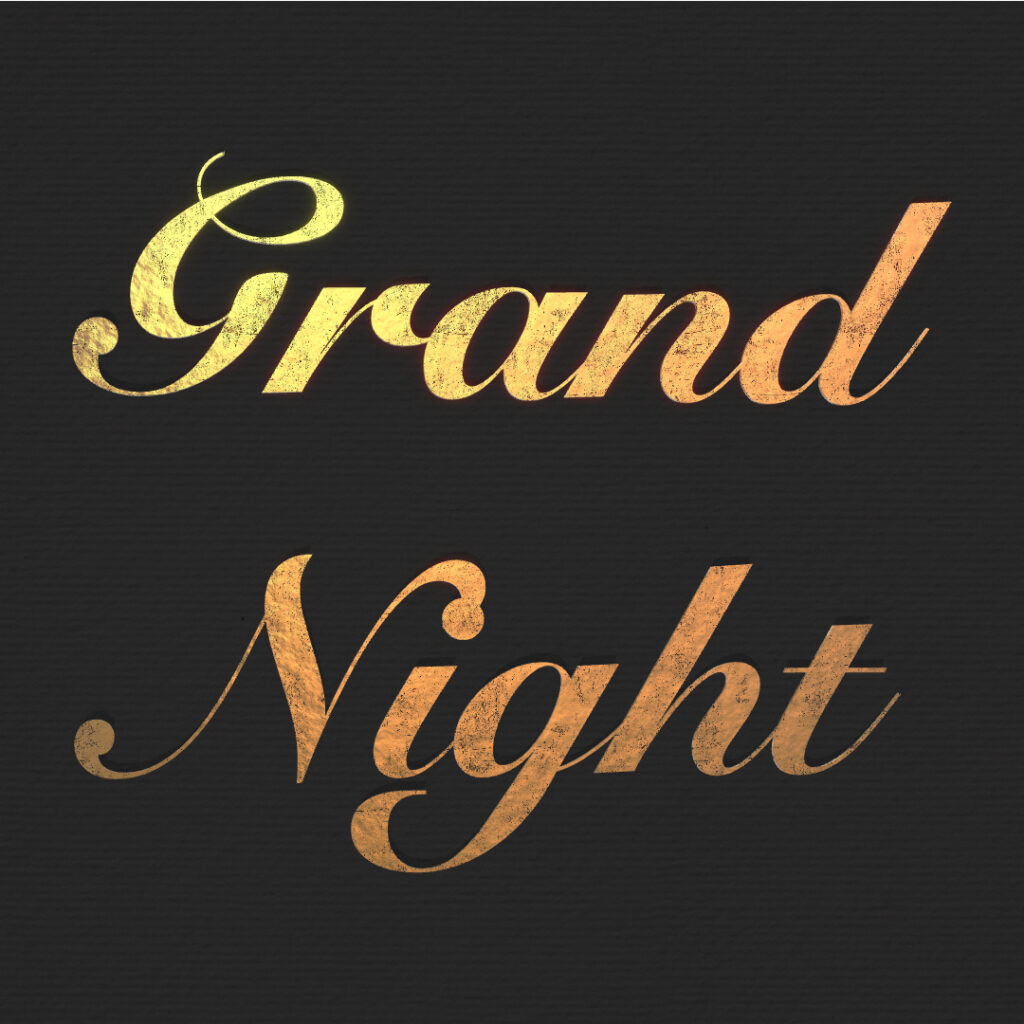 Director's Note
Welcome to Grand Night, one of the great annual traditions of Elon Music Theatre. Tonight, you'll experience musical theatre through the voices of its next-generation – every musical number in Grand Night is selected, directed, choreographed, arranged, and music directed by Elon Music Theatre majors. Their life experiences, their passions, their worries, and their friendships are woven through the performances of tonight's program.
As curators of this student-led revue, we hope that you leave the theater tonight with the inspiration to produce your own work; to gather your own circle of friends, and celebrate the art that speaks to you. Thank you for sharing in this evening – now sit back, relax, and enjoy a truly Grand Night!
Deb Leamy,
Chris Rayis,
and
The Cast of Grand Night
Special Thanks
Dr. Connie Book, Dr. Aswani Volety, Dr. Gabie Smith, Kimberly Rippy, and Christina Lowder
Song Credits
"Another Day of Sun" from the film La La Land
Music and Lyrics: Justin Hurwitz/Pasek & Paul
Direction: Ellie Schwartz
Music Direction: Charlie Castro/Summer Severin/Sitare Sadeghi
Choreography: Ella Huestis/Marina Jansen/Gabriel Logan
"The Club" from In The Heights
Music and Lyrics: Lin-Manuel Miranda
Direction: Mallorie Sievert/Derick Donato
Music Direction: Charlie Castro
Choreography: Alex Segarra/Marina Jansen
---
"Blow High, Blow Low" from Carousel
Music and Lyrics: Richard Rodgers & Oscar Hammerstein
Direction and Choreography: Jaid Green
Music Direction: Mallorie Sievert
"Amigas Cheetahs" from the film Cheetah Girls 2
Music and Lyrics: Jamie Houston/Will Robinson
Direction and Choreography: Cullen Zeno
Music Direction: Hannah Hubbard
---
"Louder Than Words" from Tick Tick Boom!
Music and Lyrics: Jonathan Larsen
Direction: Anne-Sophie Hill
Music Direction: Mallorie Sievert/Tristan Altobelli
"Shakin' the Blues away" from Holiday Inn
Music and Lyrics: Irving Berlin
Direction and Choreography: Hannah Hubbard
Music Direction: Daniel Rabinowitz
---
"Right This Way" from Bandstand
Music and Lyrics: Richard Oberacker/Robert Taylor
Direction and Choreography: Weston LeCrone
Music Direction: Gianni Palmarini
"Trouble" from Smokey Joe's Café
Music and Lyrics: Mike Stoller/Jerry Leiber
Direction: Jaron Cole/Hannah Ellowitz
Music Direction: Sujaya Sunkara
Choreography: Jaron Cole
---
"Gold" from Once
Music and Lyrics: Glen Hansard/Marketa Irglova
Direction: Faythe Kelly/Tyler Okunski
Music Direction: Kaylee Hayden/Micah Day
Choreography: Faythe Kelly/Tyler Okunski
"Welcome to Wonderland" from Wonderland
Music and Lyrics: Frank Wildhorn
Direction: Jaron Cole/Zion Middleton
Music Direction: Zion Middleton
Choreography: Jaron Cole/Giselle Watts
---
"Brand New Day" from The Wiz
Music and Lyrics: Charlie Smalls/Timothy Graphenreed/ Luther Vandross/Zachary Walzer
Direction and Choreography: Hannah Hubbard/Cullen Zeno/Gabriel Logan
Music Direction: Candace Rhodes
"What's Up Duloc?" from Shrek the Musical
Music and Lyrics: Jeanine Tesori/David Lindsay-Abaire
Direction: Hannah Ellowitz
Music Direction: Nathan Keffer
Choreography: Daniel Brackett
---
"I Wanna Hold Your Hand"
Music and Lyrics: The Beatles
Direction: Daniel Brackett
Music Direction: Jaelyn Alexander
Choreography: Daniel Brackett
"Nothing Without You" from Theory of Relativity
Music and Lyrics: Neil Bartram
Direction: Alex Pouloutides
Music Direction: Daniel Rabinowitz
---
"The Abduction" from Natasha Pierre and the Great Comet of 1812
Music and Lyrics: Dave Malloy
Direction: Sara Librandi
Music Direction: Mallorie Sievert
Choreography: Jaid Green
"I Will Turn to You"
Music by Dan Gibson Lyrics by Christopher Staskel
Seniors
Jaelyn Alexander
Daniel Brackett
Timothy Brausch
Willem Butler
Kali Clougherty
Brendan Coulter
Andy Edelman
Hannah Ellowitz
Anna Hertel
Hannah Hubbard
Kayla Jacobs
Nathan Keffer
Weston LeCrone
McKenna Meeks
Tyler Okunski
Gianni Palmarini
Alexandra Pouloutides
Daniel Rabinowitz
Juli Roberts
Skyler Sajewski
Alexander Segarra
Audrey Trullinger
Cullen Zeno
Juniors
Brooks Andrew
Kelly Belarmino
Jaron Cole
Abigayle Harnum
Kaylee Hayden
Bryant Howard
Faythe Kelly
Hannah Kevitt
Jackie Mate
Nathan Meyer
Zion Middleton
Taylor Mitchell
Candace Rhodes
Jakov Schwartzberg
Sujaya Sunkara
Renell Taylor
Giselle Watts
Sophomores
Tristan Altobelli
Jacob Atkins
Caroline Borio
Kyra Britt
Micah Day
Zeth Dixon
Camille Fundingsland
Jaid Green
Anne Sophie Hill
Elsa Keefe
Sara LiBrandi
Charlie Pelletier
Mallorie Sievert
First Years
Kameron Askew
Charlie Castro
Derick Donato
Collin Flanagan
Erik Houck
Ella Huestis
Marina Jensen
Gabe Logan
Mia McManamy
Charlee Rubino
Sitare Sadeghi
Ellie Schwartz
Summer Severin
Emily Stober
Tara Venkataraman
Company