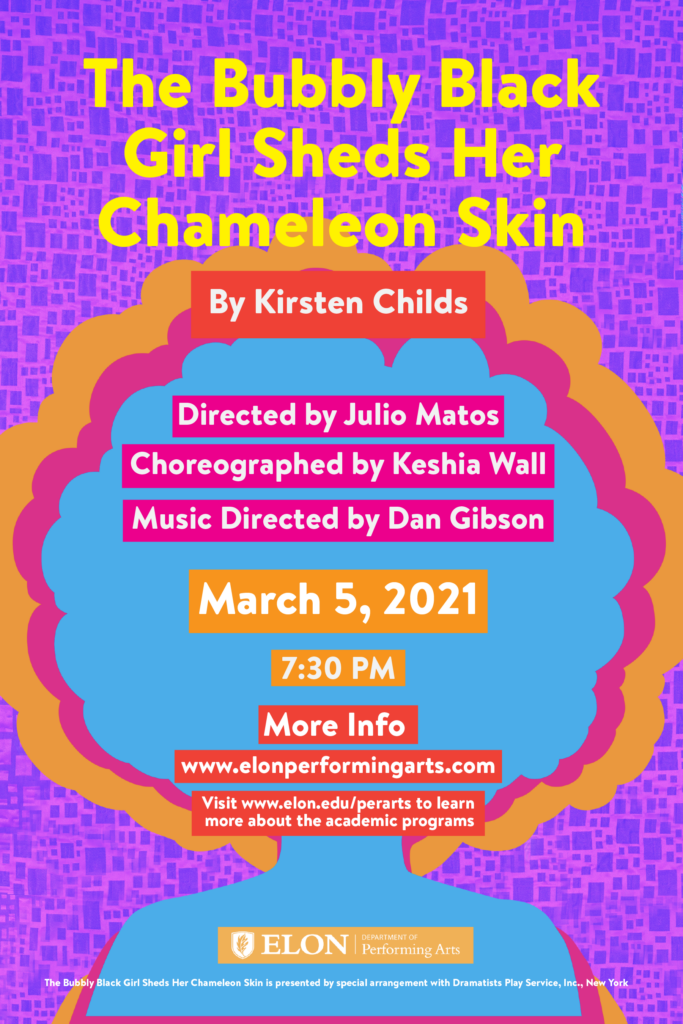 Contains some adult language and references to racial violence. Otherwise, suitable for children.
THE BUBBLY BLACK GIRL SHEDS HER CHAMELEON SKIN is presented by special arrangement with Dramatists Play Service, Inc., New York
THE BUBBLY BLACK GIRL SHEDS HER CHAMELEON SKIN was first presented in New York City by Dixon Place with funds from the Joyce MertzGilmore Foundation. Partially developed during the 1998 National Music Theater Conference at the O'Neill Theater Center. Developed in part at the National Alliance for Musical Theater, Helen Sneed, Executive and Artistic Director, and also at Musical Theater Works. Playwrights Horizons, New York City, in association with Wind Dancer Theatre, produced the World Premiere in 1999–2000. The Gold Medal jingle is used with the permission of General Mills, Inc.
Dramaturgy
This story takes place during the mid to late 20th century, and Viveca grows up being inspired by the world around her! Take a look at the icons and key figures referenced in the show that influenced her coming of age story! Click the button below to head to the Dramaturgy Page!
Research and website were done by Associate Dramaturg, Lake Sims-Winfrey, directed and guided by our amazing professional dramaturg cfrancis blackchild!
Message from Assistant Director
Cast
| | |
| --- | --- |
| Viveca | Christine Wanda |
| Gregory | Sayo Oni |
| Mommy/Yolanda | Jaelyn Alexander |
| Daddy/Policeman | Cullen Zeno |
| Chitty Chatty Pal 1/Secretary/Ballet Teacher/Sophia | Sujaya Sunkara |
| Chitty Chatty Pal 2/Secretary/Modern Dance Teacher/Scarlett | Elsa Oates Keefe |
| Emily/Nilda/Sandra | Candace Rhodes |
| Miss Pain/Secretary/Tallulah/Granny | Kayla Jacobs |
| Larry/Keith | Renell Taylor |
| Jazz Teacher/Dance Captain/Lucas | Zion Middleton |
| Prince/Cosmic/Policeman/Director Bob | Nathan Meyer |
| Viveca U/S | Hannah Hubbard |
| Gregory U/S | Zeth Dixon |
| Mommy/Yolanda U/S | Anne-Sophie Hill |
| Daddy/Policeman U/S | Zeth Dixon |
| Chitty Chatty Pal 1/Secretary/Ballet Teacher/Sophia U/S | Kaylee Hayden / Giselle Watts |
| Chitty Chatty Pal 2/Secretary/Modern Dance Teacher/Scarlett U/S | Kaylee Hayden |
| Emily/Nilda/Harriet Tubman/Sandra U/S | Anne-Sophie Hill |
| Miss Pain/Secretary/Tallulah/Granny U/S | Giselle Watts / Kaylee Hayden |
| Larry/Keith U/s | Zeth Dixon |
| Jazz Teacher/Dance Captain/Lucas U/S | Zeth Dixon |
| Prince/Cosmic/Policeman/Director Bob U/S | Brooks Andrew |
Creative Team
| | |
| --- | --- |
| Director | Julio Matos |
| Asst. Director | Kali Clougherty |
| Choreography | Keshia Wall |
| Asst. Choreographer | Faythe Kelly |
| Asst. Choreographer | Renell Taylor |
| Music Director | Dan Gibson |
| Associate Music Director | Hannah Hubbard |
| Associate Music Director | Jaelyn Alexander |
| Associate Music Director | Taylor Mitchell |
| Rehearsal Accompanist | Haidee Dollak |
| Dramaturg | cfrancis blackchild Ph.D. |
| Associate Dramaturg | Lake Sims-Winfrey |
| Community Outreach Coordinator | Giselle Watts |
| Scenic Designer | Charles Johnson |
| Asst. Scenic Designer | Eric Kanzinger |
| Costume Designer | Heidi Jo Schiemer |
| Sound Designer | Mike Smith |
| Music Editing/Mixing | Haidee Dollak |
| Music Editing/Mixing | Taylor Mitchell |
| Music Editing/Mixing | Dan Gibson |
| Lighting Designer | Bill Webb |
| Asst. Lighting Designer | Hannah Elise Brown |
Production Team
| | |
| --- | --- |
| Technical Director | JP Mullican |
| Asst. Technical Director | Josh Bothwell |
| Stage Manager | Allyson Vogel |
| Asst. Stage Manager | Haley Robles |
| Asst. Stage Manager | Carli Shapiro |
| Production Manager | Bill Webb |
| Props Master | Natalie Taylor Hart |
| Props Master | Jeff Jones |
| Paint Charge | Emily George |
| Master Electrician | Alex Nemfakos |
| Sound Advisor | Rick Earl |
| Carpenter | Eric Kanzinger |
| Carpenter | Jordan Smith |
| Light Board Op | Hannah Elise Brown |
| Follow Spot Op | Brianna Boucher |
| Sound Board Op | Haidee Dollak |
| Front-of-House Supervisor | David McGraw |
| House Manager | Jack Morrill |
| Poster Design | Sydney Dye |
| Videographer | Jermaine Studwell |
| Video Intern | Dion Cummings |
| Video Intern | Yasmeen N. Grandison |
| Video intern | Jasmine Simmons |
| Video Intern | Jordan Young |
Musical Numbers
Welcome to My L.A. ……….Full Company
Chitty Chatty ……….Viveca and Female Ensemble
Smile, Smile ……….Daddy, Viveca, and Male Ensemble
I Am In Dance Class ……….Viveca, Yolanda, Miss Pain, Emily, Gregory
The Skate ……….Viveca and Female Ensemble
Sticks and Stones ……….Full Company
Walk on the Water ……….Full Company
Pass The Flame ……….Mommy, Viveca, Female Ancestors
War Is Not Good ……….Full Company
Brave New World ……….Momm, Viveca, and Ensemble
Give It Up/Belle of the Ball ……….Full Company
Bright Blue Sky ……….Gregory, Viveca
Legacy ……….Gregory, Viveca, Police Officer 1 & 2
Who's That Bubbly Black Girl ……….Full Company
Secretarial Pool ……….Female Ensemble
Pretty ……….Viveca
Director Bob ……….Director Bob, Dance Captain, Viveca, Female Ensemble
Come With Me ……….Lucas, Viveca, Ensemble
I Don't Need to Fake ……….Viveca
Granny's Advice ……….Granny, Viveca, Lucas, Full Ensemble
Listen! ……….Viveca, Full Company
Bubbly Finale ……….Full Company
The Band
Flute: Tika Douthit
Keyboard I: Haidee Dollak
Keyboard II: David Lane
Electric and Upright Bass: Virginia Masius
Drums/Percussion: Steve McHugh
Keyboard Programming: Dan Gibson
Bios